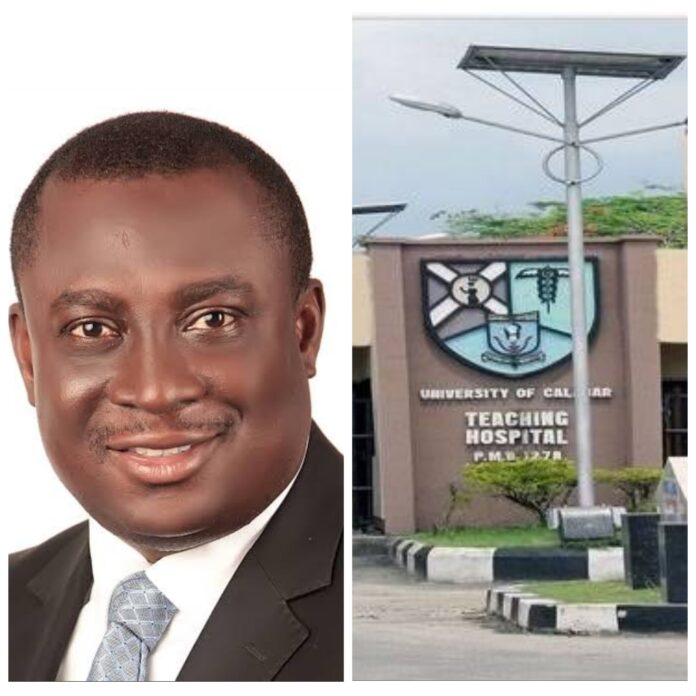 Reading Time:
2
minutes
Group of workers under the aegis of "Concerned UCTH staff have raised the alarm over what they described as an alleged ethnic cleansing and high-handedness on the part of the Chief Medical Director (CMD), Prof. Ikpeme Ikpeme, NEGROIDHAVEN can say.
In a statement signed by Ipole Edom and Theophilus Eyong, they decried the non-adherence to civil service rules by the CMD, alleging that he has been posting out officers qualified to take over as HODs to other places and making their juniors Acting Head as well as making sure his own people were the only ones in the helm of affairs.
In a statement made available to newsmen in Calabar during the weekend, they said they were not in anyway against the innovation that the CMD has brought to the health insitution but his disregard for civil service rules was worrisome.
They said :"We want to draw the attention of the world to what is happening in UCTH, there has been a total disregard for the civil service rules and abnormality has become the order of the day as retired officers are still in active service.
"Some of the senior officers who retired are even retained as contract staff to man the same position they retired from when there are qualified and experienced personnel that can take over those positions.
"The leadership keeps mum or act like it knows nothing about it but the fact will speak for itself; in some of the departments, the head of ICT is from the southern part of the state, same with NHIS, Medical Library, Health records.
"In some cases, they were completely ignored as their surbodinates were made heads of department while in some cases such position that were supposed to be occupied by core professionals were undermined.
"We also observed that there was a case of misconduct involving three persons surprisingly, the one close to him who was among those suspended were reinstated while the one from the Northern part is still roaming the street for the same offense.
"We also note with dismay how fresh persons are employed to take over departments, where there is someone who is professionally up to date with over 10 years experienced is kept aside.
"There are so many things that the people higher than us can address, we need to let the world know what is going on here, we thought he was a Messiah, if you are not from his tribe, you won't breath.
"There is a whole lot of abnormality and we are no longer comfortable, I believe you saw the Guardian Newspaper report, there is no lie in it, it's even beyond all that was highlighted.
"The management board should come to our aid, we need help, no one is checking the hospital anymore, many of us can't breath.
"Even the Head of Nursing Services that retired since 2020 never tendered her papers for her leave not until she was forced by the Director of Admin to do so this 2021 and there are many who can take over but no way," they decried.
As at press time, efforts by our correspondent to reach Prof Ikpeme the CMD, through phone and/or SMS have proven abortive as he did not take the calls or reply the SMS.