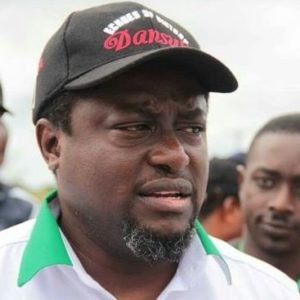 Reading Time:
4
minutes
Rt. Hon. Daniel Asuquo a gubernatorial hopeful for 2023 has condemned in strong terms the recent killing spree, violent and communal clashes that have characterized the state with the recent being the Abanwan Erei in his constituency versus Ekoli Edda in Ebonyi State. 
According to a statement signed by Dansuki as he is popularly known said, "I have received the troubling report that on Thursday, January 27, 2022, at about 5:30 a.m., the community of Abanwan, Erei in Biase Local Government Area of Cross River State, part of my constituency, was invaded by scores of warriors from Ekoli Edda community in Afikpo South Local Government Area of Ebonyi State. The invaders were armed with rocket launchers, AK-47 rifles, dynamites, and other dangerous weapons. Their attack lasted until around 9 a.m. By the time it was over, several Abanwan indigenes had lost their lives with several houses burnt. One of the victims is Rt. Hon. (Bishop) Alex Ulam, a two-term Member of the House of Representatives who represented the Akamkpa/Biase Federal Constituency between 2003 and 2011. His house was torched while his elder brother, Bishop Aaron Ukam Udo, and his nephew were killed, the latter of whom was also beheaded by Ekoli Edda warriors.
"This latest outbreak of violence between the people of Abanwan and Ekoli Edda is very troubling and has a long and controversial history, rooted as it is on the dispute over Erei land in Egbor that was leased to the defunct Eastern Region government in the 1960s.
"I sympathize with the good people of not only Abanawan but the entire Erei nation caught in the crossfire of this unfortunate and senseless conflict. I also sympathize with Rt. Hon. (Bishop) Alex Ulam over the tragic loss of his elder brother, his nephew, and of his property.
"I call on the warring parties to sheathe their swords and toe the path of peace by returning to the ongoing dialogue that was brokered long before this tragic event occurred. I call on the Inspector General of Police to immediately deploy his personnel to the warring communities to prevent further bloodshed and to investigate and bring to book the Edda Ekoli warriors and their sponsors who caused this latest round of violence.
"I call on the National Emergency Management Agency to provide the victims of the violence with relief materials to help them resettle and begin the long and painful process of picking up the pieces of their lives.
"I also call on the Governments of Cross River and the Ebonyi States, the National Boundary Commission, the Chairmen of Biase Local Government Area and Afikpo South Local Government Area, the senators, House of Representatives members, and State House of Assembly members of the affected areas, the PDP State Financial Secretary Mr. Chris Edadi (an Abanwan son) and all other stakeholders to work together to find a lasting solution to the perennial conflict that has led to the death of so many people on both sides. Enough of the bloodshed and destruction!
"What could embolden someone to execute such evil intent to the point of slaying another? The act is barbaric, the height of human wickedness, and unacceptable. I must commend the Nigerian Army for acting swiftly to quell the ugly situation that brought palpable fear within the environs.
"While still contending with this, Ogoja has been thrown into a state of mourning with the recent discovery of about 8 unidentified bodies believed to be young girls whose lives had been cut short by agents of darkness. Whatever reason that is being advanced by the perpetrators of this dastardly act is very wrong and condemnable. What I witnessed on social media that is happening in our beloved Ogoja is frightening. Girls were killed, dumped with their organs harvested.
"Many have attributed the situation to wealth killing, as young boys have suddenly become very enterprising in mischief, killing their girlfriends for money rituals, internet fee fraud, and advance fee fraud in the name of yahoo yahoo or yahoo plus. This is not us, Cross Riverians no matter the part you come from have this lifestyle of contentment. The killing of girls, children, boys to harvest organs, and other forms of quick means to wealth is an imported lifestyle and is alien to us. We use to hear about this in other places but not here. Whether it is societal pressure that has created this wrong narrative, we must act fast and act now. Parents should question their children's source of affluence and not celebrate everything they see. We all desire these good things of life but not through the wrong means. Imagine that one of the girls was the perpetrator's sister or daughter, how will he have felt?
"We are having pockets of violence, social vices, cult-related violence, communal clashes here and there, leading to security challenges. We quite agree that it was worse than this until the Governor introduced Operation Akpakwu. Our tourism, development, and investment drive can't make meaning or develop amidst all of these. We were declared an unsafe state by the UK and USA last year, and we should learn our lesson as we are still struggling to unbundle ourselves from it.
"Kidnapping in Cross River State is yet another social endemic. People are kidnapped almost everywhere and every day. We are almost if not synonymous with kidnapping in labeling. This is not us. We might attribute with to the stranger's element but then what are we doing to curb this ugly scenario that is playing out on a daily? Should we wait until it swallows us all? No! the time to act is now.
"We need to come together to discuss and proffer solutions to these menaces. No one will solve our problems other than us. Not even the man in America when he is also bedeviled with his challenges, except there is something he is going to benefit from.
"The actors to all these atrocities live among us or we have an idea of who they are and what they are capable of. Why hide them? Why protect them from the long arm of the law? We are aiding and abetting crime in full capacity, and one thing about blood is the continuous demands that it.
"Everyone matters, Government, relevant security stakeholders, Private Organizations, individuals, I mean everyone everywhere in the state matters. We need to join forces and purge our land of all these unholy alliances. Security is everyone's business. If you see something, say something. We need more engagements, we need to involve our traditional institutions in this fight. They have a very critical role to play. We need to empower them and create the synergy between them and the security network in the state.
"The security flow chart in information dissemination, activities, and mop-up exercises must be integrative. There shouldn't be any sacred cow. Those to be prosecuted have to be made public and the processes revealed. There shouldn't be any secret. I have always fallen in love with the position of the Nigerian Labour Congress with this parlance common among them, "an injury to one, is an injury to all". Security-wise, this should also apply.