Reading Time:
3
minutes
On Tuesday 10th March 2020, President Muhammadu Buhari announced the appointment of an erstwhile Commissioner for Information in Cross River, Chief Akin Ricketts as substantive Chair of the board of Nigerian Port Authority (NPA). On Friday 20th March, the Honourable Minister of Transportation, Rt. Hon. Rotimi Amaechi, inaugurated the Board of the NPA with Ricketts as Chair including Muhammed Koko, Prof. Idris Abdulkadir, Onari Brown as Executive Directors; Ghazali Muhammed, Sen. John Akpanuoedehe, Sen. Binta Masi Garba, Mustapha Aminu Dutse, and Abdulwahab Adeshina as members.
The Nigerian Port Authority which is a national brand asset was established by the Ports Act of 1954 and comprises six (6) major ports, namely, Lagos Port Complex, Tin Can-Island Port Complex, Calabar Port, Rivers Ports, Onne Ports Complex and Delta Ports Complex. The NPA envisions herself to be the leading port in Africa with statutory duties and functions as follows:
*Develop, own and operate ports and harbours
*Provide safe and navigable channel
*Offer cargo handling and storage services
*Maintain Port facilities and equipment
*Ensure safety and security
*Develop and own property.
However, on Saturday 19th December 2020, Chief Ricketts the NPA Chair embarked on what has been referred to as the Nigerian Ports Authority (NPA) Corporate Social Responsibility Social Intervention Programme where he donated 100 brand new motorcycles, 50 Butterfly sewing machines and N10, 000 cash gifts (plus wrappers) to over three hundred very poor/less privileged persons drawn from the six local government areas of the Central Senatorial District of Cross River State, comprising Abi, Boki, Etung, Ikom, Obubra and Yakurr.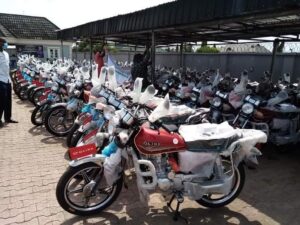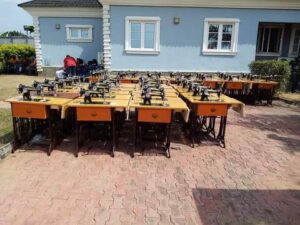 This Ricketts' so-called empowerment scheme has attracted a lot of reactions: some condemning while others are commending. For instance, Kennedy Nsan has berated both Chief Okoi Obono-obla and the NPA boss on the arguments that what the latter did falls short of an empowerment initiative but, as usual my friend Kalita Joe Aruku has disagreed faulting the latter on the basis that his allegations are bereft of facts to substantiate his claims. Let me reproduce what Nsan told Obla in respect of this: 'I saw pictures of that 'empowerment' and I'm sad to note that the same things you criticised the PDP for while they held sway is the same thing you're repeating/ encouraging now in the APC. Like I did say earlier, empowerment should be tailored to solve unemployment gaps, it shouldn't be an exercise where party faithfuls are selected and given items that finds (sic) their ways back into the market places and sold thereafter. If sewing machines must be given as 'empowerment', constituents who are either tailors or those with interest in tailoring should first be trained in tailoring or entrepreneurship before handing them the items. Empowerments should be carefully and strategically done as a measure to reduce poverty and unemployment. As giving out items to party faithfuls without a corresponding training won't add value to any microeconomics indices or human development index.' What an excellent argument by Nsan. It still beggars my mind why on earth, Aruku would still disagree with Nsan!
I beg to stretch Nsan's criticism a little further: I thought the NPA is a national brand asset… If this is the case, why is Ricketts' now ignoble NPA CSR pinned to just the 6 LGAs which comprise Cross River Central? Wither Cross River North and Cross River South? Is NPA under Chairman Ricketts still the national asset or it will reduce itself to being a benefactor for just Cross River Central? I still recall that Chairman Ricketts contested the Cross River Central Senatorial seat in the 2019 general elections… is this now controversial NPA CSR Social Intervention Programme a 2023 pre-election campaign in disguise? If yes, couldn't Chairman Ricketts pretend to be pan-Cross Riverian by tasking the NPA CSR to extend their corporate social responsibility to all of Cross River seeing 2023 is still faraway in my estimation?
Finally, I wish to understand what Prince Bassey Otu, the former lawmaker representing Cross River South at the National Assembly, meant when he registered the following eulogy about Ricketts' lopsided NPA CSR: 'In this perilous times, Cross Riverians must come together to rebuild the State through giving back to the society'? When Otu reportedly described Ricketts' nepotic move as 'excellent idea', did he really mean it? What is the 'excellent idea' in concentrating the CSR of a national agency in just your senatorial district? Let me remind Otu of the lexical rendition to the concept 'excellent'… It means 'very good… eminently good'. For me, it is a 'good' idea that NPA thought about a CSR for Nigerians especially during this trying times of the pandemic and the aftermath of the EndSARS protest hijacked by hoodlums but, to be sectional, divisive, segregating etc in articulating this social responsibility is not 'very or eminently good' and thus not an 'excellent idea' as Otu erroneously alleged. I make bold to request that Otu should offer explanations as to what he implies by excellent in Ricketts' lopsidedness or retrieve his statement and offer a public apology to Cross Riverians.
Efio-Ita Nyok is a Blogger.