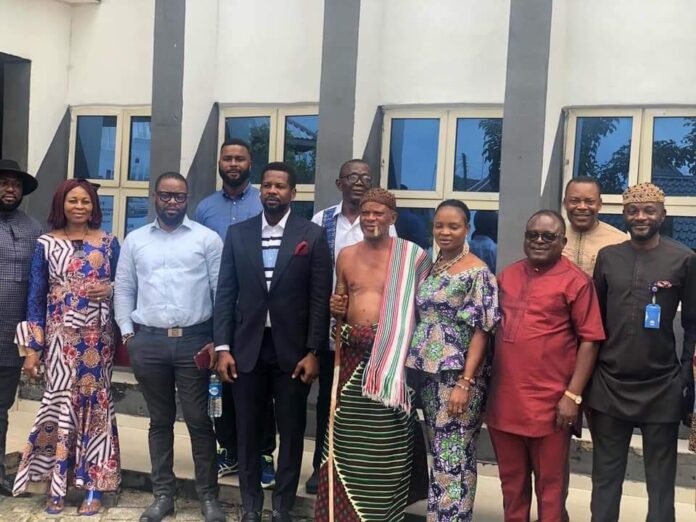 Reading Time:
2
minutes
The government and the people of Yakurr are set to host another edition of the popular Leboku International New Yam Festival.
This was made known during an official visitation to the palace of the Obol Lopon of Ugep and Paramount Ruler of Yakurr, HRM Obol Ofem Ubana Eteng by the government organizing team led by the Senior Special Adviser, Governor's office and events department, Hon. Kenn Aklah on Thursday in Ugep, Yakurr Local Government Area.
In his remarks, the Senior Special Adviser affirmed that this year's Leboku will hold in full capacity with all the needed government support to make it bigger, better and bolder.
"After the outbreak of Covid-19 pandemic which affected the celebration last year, people are ready and anxious, putting themselves in the spirit of entertainment for this year's edition, and we must give them that entertainment."
Hon. Aklah further highlighted that this year's Leboku festival will pay special attention to the Yakurr special cuisines.
"We have seen how tourists appreciate your reception during this festivity, Ugep have wonderful cuisines, and we want to focus on that aspect on the major day of the festival to highlight our major content, that yam people eat with fresh salad and palm oil cuisine will be our major attraction to promote to the world this year," He said.
Also speaking, the Honourable Commissioner for Culture and Toursim, Hon. Eric Anderson assured that the Cross River State Government is fully behind this year's event and will go all out to make it a success.
He hinted on his plan to document the rich culture of the Leboku festival into movies and see how it be can be marketed to the world.
Responding the Obol Lopon of Ugep and paramount ruler of Yakurr, HRM Obol Ofem Ubana Eteng said he was elated at the level of government preparation and support this year while also charging them to improve on the festival gift prizes as they have remained the same over the years.
"As the chief celebrant, I will try my best to make sure everything go well despite the economic difficulties," the Royal father assured.
According to the official programme of event released by the Obol's Palace, the 2-months long festival which kicked off since the 6th of July, 2021 will run till the 4th of September, 2021 with Mr. & Miss Leboku contest holding on the 23rd of August, Etangala carnival on the 24th of August and the Leboku International Festival grand finale holding on the 25th of August at the Ugep Township stadium.