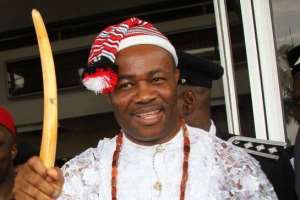 Reading Time:
3
minutes
A subnational entity in Nigeria's south-southern geopolitical extraction, Akwa Ibom, is celebrating thirty-five years of her birth from Cross River since 1987. 
Amongst the pomp and pageantry characterising the official celebration has been an attempt to appraise the achievements of in terms of health, infrastructure, economy, tourism, economy, education and the like.
One out the the ten governors Akwa Ibom has had since its inception has come under focus. The administration of Godswill Obot Akpabio who served between 2007 and 2015, that is, before Udom Emmanuel (2015 to present) and after Victor Attah (1999 to 2007).
Amongst the 10 Governors who have so far occupied Akwa Ibom Hilltop Mansion; from Colonel Tunde Ogbeha to the Incumbent Deacon Udom Gabriel Emmanuel, the achievements of Godswill Obot Akpabio the 'uncommon transformer' has been adjudged indelible.
A detour of history takes us through a tip of the Iceberg of some of GOA UNCOMMON TRANSFORMATION ERA:
1. Free and Compulsory Education.
2. Free Medical/Health Care to Children and the Elderly.
3. Building of an International Airport.
4. Payment of 13th Month Salary to civil servants fittingly dubbed AkpabioMber
5. Building of Four Flyovers.
6. Building of the new Government house.
7. Provision of Civil Service Buses which are still conveying civil servants from their respective LGAs to Uyo today.
8. Building of the 21st Century Anniversary Hospital in Uyo.
9. Building of new Ikot Ekpene Correctional Facility etc.
10a Building of Five Cottage Hospitals in Akwa Ibom State.
10b. Building of new Police Secondary School and also Mobile Police base
10c. Attracting a Federal polytechnic to Akwa Ibom State (Federal Polytechnic- Ukana)
10d. Initiated the construction of 1000 units Housing Estate per senatorial estate at Urua, Eket and Ikot Ekpene, amongst other Housing Projects.
10e. Building of an International Stadium in Uyo known as Godswill Akpabio Int'l Stadium
Not to mention : the construction of a state of the arts Governor's office totally ICT compliant
(2) Construction of a befitting Deputy Governor's lodge with banqueting facilities,
(3) Construction of 31 numbered security estates in each local Government area of Akwa Ibom state; dualisation of numerous roads such as Ekom Iman Abak with highest bridge between ravines, dualisation of Oron road to Airport, Dualisation of Idoro road to Itu, Uyo/Ikot Ekpene Road now completed by the current Government, dualisation of Ikot Ekpene to Abak, over 750 roads including Enen Nsit(44km) and Abak/Etim Ekpo/Ika roads(67km /bridge).
(4) Impactful human empowerment including: turning boys to men and abolishing the houseboy/house girl syndrome etc.
(5) Attracting a Naval base to Ikot Abasi (NN Jubilee)
(6) Construction and use of underground pipe jacking technology for drainage control (40 ft below houses) amongst other laudable and indelible achievements.
(7) Construction of the State banquet hall with industrial laundry and industrial kitchen facilities two floors below with numerous lifts and modern guest houses.
(8) Construction of the best E-library project built in west Africa.
(9) Sponsorship of over 20 thousand Christian's to Jerusalem on Christian pilgrimages and at least 5.5 thousand Muslims to Mecca in 8 years.
(10) Sponsored thousands of Akwaibom children abroad in various Educational and Vocational courses ,one of whom returned with award for solving a 240 year mathematical puzzle in India.
(10)a. Led Akwaibom Children to break the Guinness World record for assembling the largest group of Christmas Carol singers ever assembled in one place (Godswill Akpabio Unity Choir of 25,272 Choristers)
(10)b. Completion of Ibom Power Plant at Ikot Abasi and the Production of over 191 Megawatts of electricity by 2013.
(10)c. In partnership with UK investors, GOA, constructed and commissioned a Gas processing plant at Ibono/ Esit Eket with 69 km of underground gas pipeline to Ikotabasi (Ibom power) and 52 km to Odukpani(NIPP).
(10)d. Completed 14 storey Sheraton by Four Point Hotel(fully furnished); and initiated the Tropicana complex with completed Mall, six Cinema studios and ongoing I5 floor Hilton Hotel Uyo etc.
(10)e. Built a Dual Campus State University and Graduated the First Set of Students in 2015, with His Highness, Najib Hussaini Adamu the Emir of Kazaure, (1998- to date,Jigawa), as 1st Chancellor before exiting office.
#GodswillAkpabio …