Reading Time:
2
minutes
The Senior Correspondent of Africa Independent Television (AIT) in Cross River State, Rasheed Olanrewaju Zubair, has bagged the "All Time Media Professional Award 2022".
According to the organiser, Olanrewaju beats other contenders who were nominated for the same category of the award for the 2022 edition.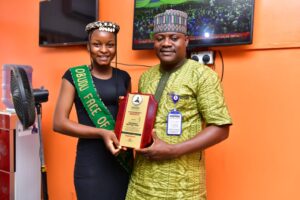 Speaking shortly after presented the award All Time Media Professional Award 2022 to him Wednesday, Olanrewaju described the award as a challenge to do more for humanity by giving a voice to the voiceless, and serve as an agenda setting agent between government and the governed.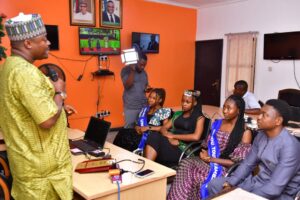 He commended the organiser of the award for finding him worthy for the reputable award, promising to continue to use his talent and platform to change the society for good.
"I don't know why this award was given to me, but I remember when you asked me to send my details for entry for people to vote, and I thought that will be the end, but God and the people, especially the ordinary ones voted for me, I won't take this for granted.
"I know that whatever might be their reason for giving me their vote, they are indirectly saying continue to do more for the ordinary people and i can hear this from them from my inner ear loudly", he added.
Early during the presentation of the award, the Managing Director of Mountain Cinema Nigeria, Comrade David Ibeb Akpeke said the award was in recognition of "your outstanding performance and immense contributions to the development of media and entertainment industry in Cross River State and beyond".
According to Akpeke who was accompanied by the Face of Obudu Culture Queen and her Majesties, said after the random nominations and voting, "You emmerged as the best overall in the Category of your Award.
"On behalf of the management and Staff of Mountain Cinema Nigeria, we congratulates you and ask that you Continue to do more for the grassroot and humanity", Akpeke said.
Recall that Rasheed Olanrewaju has won several awards within and outside Nigeria, including the media personality award by Cross River State Government, Best journalist Award by Citizen Nigeria, Most Rugged journalists award by the University of Calabar, Cultural Media Ambassador award by Calabar Heritage Group and Humanitarian Service Award among others.