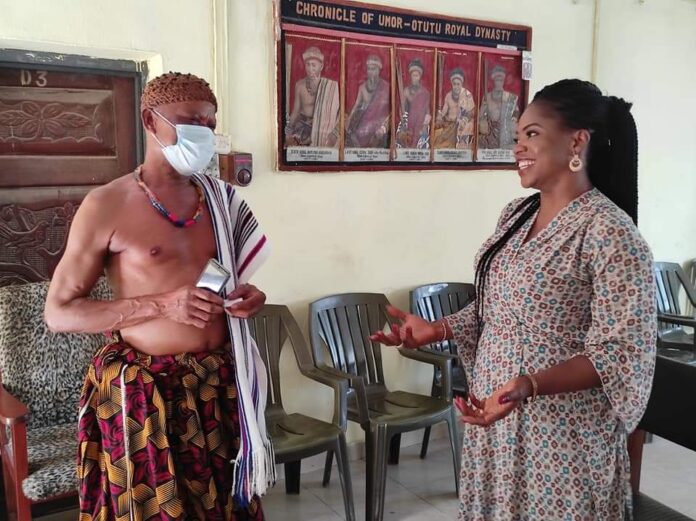 Reading Time:
2
minutes
Director General of the Cross River State Primary Healthcare Development Agency, Dr Janet Ekpenyong, has paid a courtesy visit to the the Paramount Ruler of Yakurr Local Government Area and Obol Lopon of Ugep, Obol Ofem Ubana to seek his royal blessings and support for the forthcoming Meningitis vaccination exercise across the state NEGROIDHAVEN can report.
The DG praised the ruler for his commitment and efforts towards the Attainment of a Universal Health Coverage Status as she recognized him as one leader who has stood out and prioritized quality healthcare for his people.
"I know you have always been very supportive of all of our health programs, you are one ruler that is loved and respected across the nation, and lending your voice to this campaign (meningitis) will help us achieve a 100% record across not just Yakurr Local Government Area but the whole state.
"We want to plead that you ask your people to bring their wards out from the 6th of December to the 12th especially those within the age bracket of 1-5 years old to any of our Primary Healthcare Centres, some designated health post and temporary fixed post that will be set up in highly populated areas".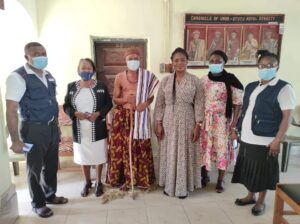 The Paramount Ruler and Obol Opol while assuring the team of his support and cooperation, praised the state government for acting swiftly and taking decisions which has prevented the state and its people from being overwhelmed and overtaken by pandemic.
"I know what meningitis is, it's one of the silent killers and people don't know about it, and that it why I must commend you for leading the advocacy across the state and even here in Yakurr Local Government Area.
"Am happy what the Government is doing , taking prompt actions and that is why I am always supporting Governor Ben Ayade because he thinks fast with members of his EXCOS and they operate fast. I hereby declare my total support for the execise and pray that Cross River becomes Meningitis free, Neglected Tropical Diseases free and pandemic free".
In a related Development, the Primary Healthcare Yakurr Local Government Area Health team and Local Government Area supervisor for health meeting with key stakeholders including religious leaders traditional leaders, heads of federal, state and Local Government establishments, MDAs and other stake holders to sensitize and mobilize them and their subjects for the forthcoming Meningitis vaccination campaign for children 1yr – 5yrs.
Date for the exercise is slated for 6th to 12th December 2020.