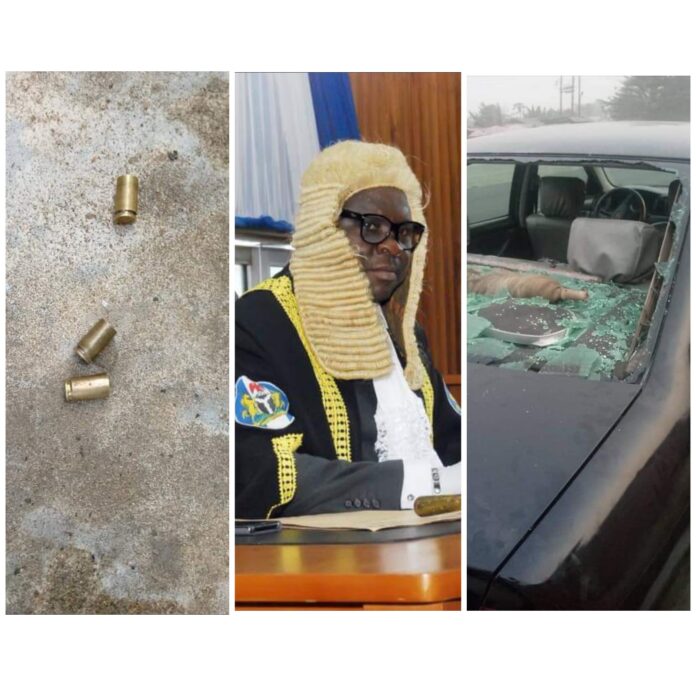 Reading Time:
2
minutes
The reportedly over zealous security details attached to the Speaker of the 9th Cross River State House of Assembly, CRSHA, Rt. Hon. Eteng Jonah Williams, have been accused of excessive use of force in the discharge of their responsibilities NEGROIDHAVEN can say.
Egoh Ayamba a social media user resident in Cross River, yesterday accused the security operatives of Speaker Williams of using excessive force against Nigerians at Odukpani Junction of the Calabar-Itu-Odukpani Federal Highway.
Ayamba who is campaigning for a redress by the Speaker said that the security officers manhandled a handful of commuters suspected to be trailing the Speaker's convoy. He disclosed that those affected were shot at, had their vehicles damaged and roundly intimidated.
Ayamba's words 'I just got a disturbing call from my cousin, Maurice Effieyen who is a lecturer with the COE, Akamkpa that they came under attack by the details of the speaker of the State House of Assembly for committing the offence of "following their convoy". Their windshield was broken and their vehicles shot which resulted to their tires being damaged. Excess use of force, if you ask me.'
Responding to the accusation, the Chief Press Secretary to the Speaker, Hope Obeten, rather said that thugs attacked the Speaker which the security details foiled. According to him, security operatives foiled an attack on the convoy of the Speaker of the Cross River State House of Assembly: 'This was an obvious attempt to attack the Speaker. We don't know their plans and the Speaker's security details are the most peaceful officers I have come across in my life. They cannot carry out any action unlawfully,' Obeten noted summarily.
Cross Riverians have roundly condemned the reported excessive show of force by the Speaker's aides. For Joe Brownson 'Nawa oh! Nsuto mkpo, Haba now has it gotten to this, must everything result to violence I taya for this we country.' Otu Otu Ita said 'This act is irresponsible. E no good for speaker image.' Akabom Okon observed thus 'Very unfortunate but thank God no live was lost. The speaker should fixed the damaged items. Overzealous staffers.' While Archibong Hashbury Efefiom said '
Oga media aide wants to activate unnecessary dragging for the speaker, it's simple they can either dialogue and let it slide or test his dragging capability on this street.' Simon Awup noted that, 'Thus is a show of shame. Only uncivilized leaders go about behaving like this.'
Cross Riverians have tasked the Speaker to bear responsibility for the overzealousness of his security aides by fixing the damaged car and other losses.
On Thursday evening, around Odukpani Junction, the development occurred where the Speaker in company of other principal officers of the State House Assembly and dignitaries were returning from his hometown, Mkpani, Yakurr LGA, where he had gone to lay to rest his late younger sister, Mrs Obal-Justina Inah Okon.