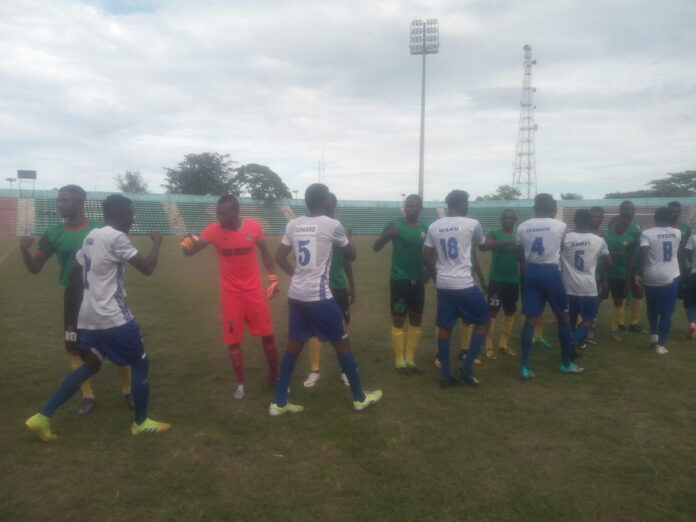 Reading Time:
2
minutes
By Kelvin Obambon
Rovers Football Club Calabar on Saturday demonstrated 'kindness' towards Osun United FC by sharing point with the visitors in an atmosphere dominated by pressure.
Some 15 minutes into the game played at the UJ Esuene Stadium, Calabar, both teams were still trying to find their feet as the ball moved back and forth the penalty boxes of both sides.
When the game entered the 30th minute, Rovers goaltender Isah Ismaila made a brilliant save that denied the away team their first clean attempt at goal. The shot was taken by United's Adesina Thomas few meters from the penalty area.
Rovers also had their first chance in the 40th minute blown because Asuquo Inyang's shot couldn't connect well.
The kindness in sharing of point came in the fleeting moment of the first half after Emmanuel Odafi caught up the ball with both hands inside the box, resulting in penalty that was converted by Olalere Hakeem, thus putting the Omoluabi Giants a goal ahead just in the 45th minute.
When the second half was called in, Rovers missed two chances from a goal mouth tussle right in the 46th minute.
As the host piled up pressure on their guests, Mutiu Dauda got involved in a hard tackle, leading to him being sent out on the red in the 60th minute of play. This therefore reduced the Bright Omokaro tutored side to 10-man squad.
An equalizer came the way of Rovers through Daniel Ilebvare, who fired home from within the box in the 68th minute.
The home team's desperate push to break the tie was truncated by United's well fortified backline, as they keep fending off Canaan Boys' onslaught. And this continued until the final whistle.
Meanwhile, in a post match interview, the head coach of Rovers FC, Samuel Asuquo, said it was tough for the team because they have lost six key players.
On the level of officiating, Coach Asuquo said "To me it was okay. The only thing I saw there was the delay tactics employed by the opponent. They delayed the game for 10 minutes, but ended up giving 3 minutes as added time. And still inside that 3 minutes, their keeper fell on the ground without anything wrong with him."
He said the team would continue to work to improve on observed lapses so as to put up better performance in the next match.
Rovers will play host to Ekiti United on the 29th May, while Osun United will entertain Dynamite Force FC at the Osogbo Township Stadium.