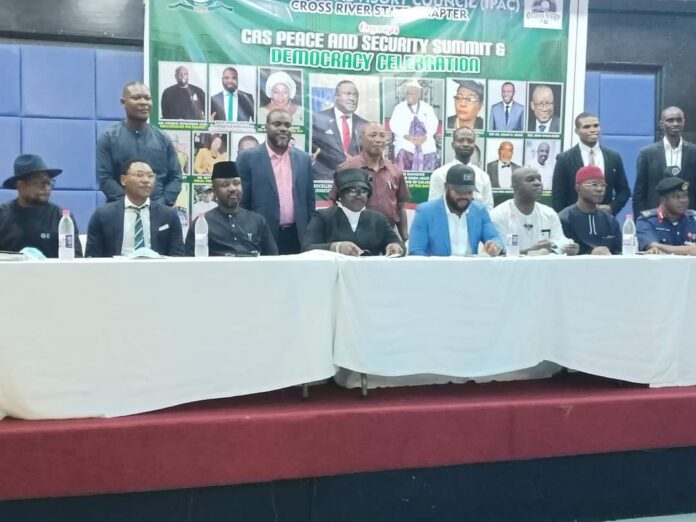 Reading Time:
5
minutes
PROTOCOLS
I welcome you all on behalf of Inter Party Advisory Council (IPAC), Cross River State to the first IPAC State Peace and Security Summit and Democracy Celebration. IPAC is an the body that represent all the 18 political parties in Nigeria that are recognized by INEC. The new executive under my leadership was elected on the 3rd of February, 2021. Within this period, we have evolved programs and activities geared towards ensuring good governance and accountability as well as creating the needed political firmament that can guarantee a more peaceful, credible and fair election ahead and the all important 2023 general and state elections. It is also important to note that IPAC is completely independent from any government in power. We are not on the payroll of anybody and so we can carry out our constitutional responsibility without any fear of compromise. 
This program, being our first major public event is predicated on the need to highlight the current multidimensional and hydra header security challenges confronting the nation in general and Cross River State in particular. We are all aware that as at today, no part of our dear country is spared from incessant cases of terrorism manifesting in different forms and dimensions. It is now common knowledge that one of the things that binds us together or the commonest feature of Nigeria as a country today is insecurity. Nobody anywhere is safe as it stands now. As a matter of fact, waking up in Nigeria has become a miracle. One of the trending and thought provoking savages stipulates that every Nigerian living now should be issued a certificate of survival. Like a wild fire, insecurity has consumed every part of thus country, distinct only in character and the characters involved. For instance, in the North East, Boko Haram terrorists have asserted themselves as a deadly killer squad, armed banditry reign supreme in the North West, specializing in rural banditry and kidnappings. In North Central, the endless farmers-herders clashes is assuming a more frightening dimension. In the South West geopolitical zone, criminal elements like kidnappings and the invasion of herdsmen has led to the emergence of counter militia groups now demanding for secession. In South East, the rising cases of kidnapping and invasion of Fulani herdsmen has heightened the agitation for Biafra Republic with unaccustomed attack on security infrastructure. In South South, the spate of kidnapping, cult clashes, militancy and general unrest is a clear testimony to the fact that all is not well with every part of Nigeria.
Recall that before the advent of this current administration, Nigeria was dealing with Boko Haram as the primary threat to national security while criminal groups like kidnappers and cultists were considered as minor actors. The story is different today in the light of the multifaceted dimensions and manifestations of terrorism, culminating in secession threat and its attendant complication of the ongoing fight against insurgency in Nigeria.
It is a truism that the primary role of government in any civilize country, if not the most important is security of lives and provision of welfare for the citizens. This is due largely to the fact that the federal government possesses military capacity and threat of force which other tiers and sectors of the society are not capable of.
Unfortunately, and very unfortunately, governments at all levels have failed to live up to the mandate freely given them by the people of this great country.
However, despite the abysmal failure of government to live up to her responsibility, it is important to note that the challenges of our security infrastructure are the concern of all of us and not just those in government alone but all of us who are concerned about the peace and harmony of our nation. This is because we have no other nation to call our own.
Ladies and gentleman, it is unfortunate that despite the seemingly irremediable insecurity that have overtaken our great country, Nigeria, the political class is busy playing politics. Our leaders are playing politics with insecurity. There is clearly no deliberate step taken by government at all levels to tackle this menace. It is regrettable that the root cause of insecurity which is centered around poverty, unemployment, injustice, corruption, ethnicity, etc are still being treated with kid gloves and brandied as campaign promises while the few privileged ones in power feed fat on our common patrimony. As we are gathered here to talk about this social malady, our leaders across political divides are elsewhere plotting how to undo each other in the next election. Isn't it a mark of shame that our brothers and sisters in the 'big parties' are fighting over party secretariat while the State Chairman of NLC has been in kidnappers den for almost three months today?
Let me at this point remind political gladiators in CRS that 2023 is still far and that there may be no Nigeria in 2023 and therefore no election to contest if they continue beating war drums in our once most peaceful state in Nigeria. Let me also state here that IPAC will not hesitate to seek the disqualification of any political party or any candidate that engages in acts and actions that causes the breach of peace in CRS.
We therefore urge both the APC and PDP to halt the gradual drift to anarchy by abiding by IPAC code and electoral laws with great sense of decorum as they embark on the next political voyage. We call for tolerance from both parties as we urge them to exhibit some penance and take responsibility for the gradual collapse of our great nation under their watch in the past 22 years and counting.
Going forward, therefore, IPAC, CRS resolve to stand for one indivisible Nigeria. We also wholeheartedly support the call by Southern Governors to stop open grazing in Nigeria as well as endorse the immediate call for restructuring. In addition to the aforementioned, we call on our Governors to immediately implement full autonomy for the Legislature, Judiciary and financial autonomy to Local Government. This is the only way to justify their call for restructuring. We further call on the all the six Governors from South South geopolitical zone in collaboration with other critical stakeholders to convoke a security meeting to set up a regional security outfit like their counterparts in South West and South East.
Let it be on record that the stifling of Local Government account by Governors is the root cause of insecurity in Nigeria. This is because the grassroots which is the real foundation of democracy is almost completely isolated from the dinning table of our common patrimony. Not yielding to this timely advise, just like ignoring Covid 19 protocol could possibly be a recipe for another round of Endsars protest. God forbid!
As we mark yet another anniversary of our democracy, I call for sober reflection by the political class ahead of the next election. For those who despite having our mandates have accomplished little or nothing, I call on them to leave the driver's seat and disembark from the next journey. I also join the call for generational shift. This is the only way our current crop of failed politicians can truly atone for their sins rather than plunging us further into another era of recycling spent efforts.
Finally, I call on the entire youths of CRS across political divides to rise up and take over what rightly belongs to them before it is too late.
I urge our awardees to see this award not as a destination, but a challenge to do more for the benefit of our society.
Let me state on a final note that this Peace and Security Summit does not promise to provide a holistic solution to insecurity in Nigeria, it is rather an attempt to ventilate and stimulate a discussion aimed at eliciting and igniting a new thinking and new ways of dealing with this multifarious security challenges rocking our great nation. In this event today, we have a great professional in the person of Dr. Ndifon Neji Obi who is the Keynote speaker and our respected heads of various security agencies to do justice to the topic, PRIORITIZING SECURITY; THE ROLE OF GOVERNMENT AND THE RESPONSIBILITY OF CITIZENS.
Thank you as you all listen to the various segments of today's discourse.
Anthony Bissong Attah
Calabar,
27th May 2021