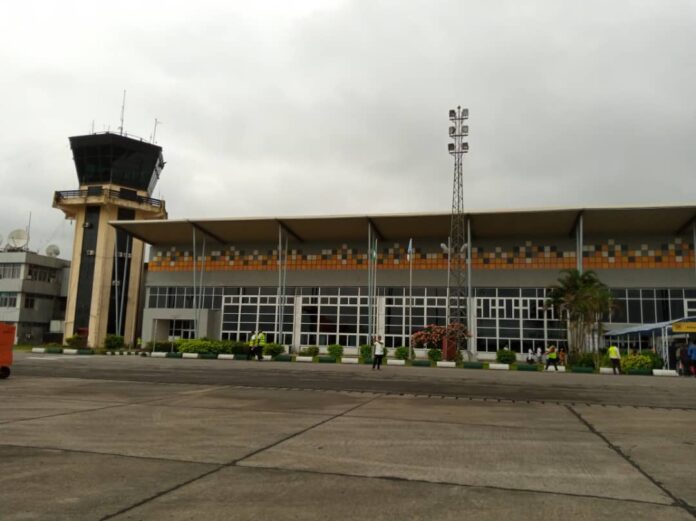 Reading Time:
3
minutes
July 16 and 17, 2021 was quite hectic for me and a section of other passengers who embarked on an air journey with Air Peace airline from Abuja to Calabar.
For the two days, the Air Peace flight "Chinonso" could not land in Calabar due to what the pilot described as "poor weather condition", hence we were returned back to Abuja on same flight on July 16 and similarly, on July 17, when the same plane could not land in Calabar again, we were diverted to Portharcourt airport were we landed and thereafter, most passengers including myself took the option of a road journey to Calabar with another terrifying experience along the Odukpani axis leading to Calabar.
When I visited the Margaret Ekpo International Airport today in Calabar on a fact finding mission on why air planes, mostly commercials, cannot land in the airport at night or during adverse weather condition, a staff of Federal Airport Authority of Nigeria (FAAN) who spoke under the condition of anonymity because the Airport Manager was not on seat, told me that it was the duty of the Federal Government to install the Instrument Landing System in the airport with a view to alleviate the plight of passengers who normally board but cannot disembark in Calabar due to bad weather.
He explained to me that Instrument Landing System is a Standard International Civil Aviation Organisation (ICAO) precision landing aid that is used to provide accurate azimuth and descent guidance signals for guidance to aircraft for landing on the runway under normal or adverse weather conditions.
According to him, in aviation, the instrument landing system is a radio navigation system that provides short-range guidance to aircraft to allow them to approach a runway at night or in bad weather. In its original form, it allows an aircraft to approach until it is 200 feet over the ground, within a 1⁄2 mile of the runway.
The Instrument Landing System provides an approach path for the exact alignment and descent of an aircraft on the final approach to a runway. The pilot receives guidance information through a ground-based directional transmitter; the localizer, providing horizontal guidance, and the glide-slope, providing vertical guidance.
He said that since Calabar airport has no Intsrument Landing System, it makes it difficult for the pilot to find the exact path for the alignment and descent, hence in other to prevent a crash, the pilot will explore the option of flying to the nearest airport that has the Instrument Landing System or better still, fly back to Abuja or Lagos as the case maybe.
He noted that until the Instrument is installed, no air plane can land in Calabar when it's raining or at night.
These packages can range anywhere from approximately $3,000 (US) for a basic general aviation IFR GPS receiver installation and certification, to $10,000 (US) for a more sophisticated GPS receiver installation/certification on a commercial aircraft.
The Minister of Aviation, Sen. Sirika Hadi, should please come in an assist us with this instrument.
I want to also plead passionately with Gov. Ben Ayade of the state to take this up with the Federal Government and see how this Instrument can be fixed in Calabar airport.
Calabar as the tourist capital in Nigeria should have this Instrument at the airport. Imagine if investors where coming into the state during the raining season and they couldn't land due to adverse weather condition, or an applicant missing a job interview in Calabar because of landing challenge.
Now that Gov. Ayade has "socketed" the state to the centre, some of these things should be given the utmost attention there need for improved growth and development of the state economy.
(Insert picture is a plane receiving signal to land from the Instrument Landing System).
George Odok
George's Print