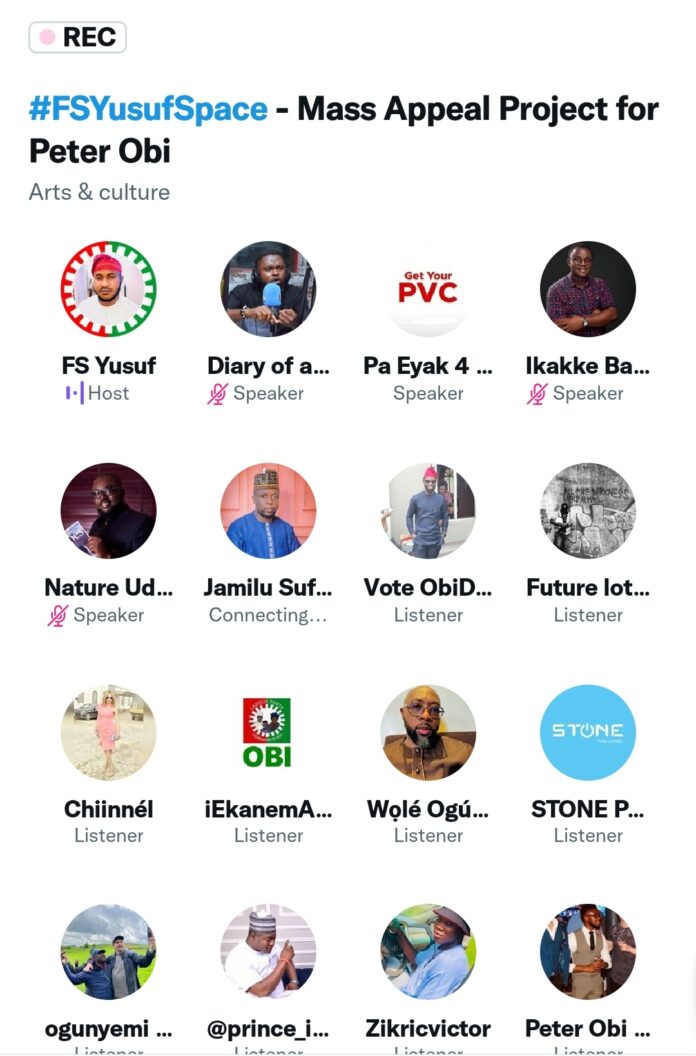 Reading Time:
2
minutes
A Nigerian-based civil society organisation, Wednesday, organised a Twitter Space session in respect of the ongoing Obidients Fitness Walk, Labour Party LP, and Peter/Ahmed Datti presidential ambitions NEGROIDHAVEN can report.
Mass Appeal Project, MAP Nigeria a socio-political but, non-partisan not-for-profit body through her flagship programme, MAP4PO which aims at ensuring structural mobilisation for the Labour Party, LP sponsoring Obi/Datti presidential candidatures, and mass sensitisation of the Nigerian electorate held her first ever social media engagement to especially rally support for the forthcoming Obidients Mega March in Uyo, Akwa Ibom state.
— FS Yusuf (@FS_Yusuf_) September 27, 2022
The conversation which began from 7PM (WAT) and ended at 11.36PM was co-hosted by Twitter influencer @FS_Yusuf_ and @IkakkeBassey the Director General of MAP Nigeria including @MmantiUmoh, had @paeyakdpeople, @EfioItaNyok and @nature_udoh as permanent speakers.
According to the organisers, the goal of the conversation was 'To give #Obidatti and Labour Party brand visibility across the State, and to reach out and harness support for Peter Obi from the rural and unreached areas'.
The central issues which where topical during the session were an introduction of MAP Nigeria, the 1st October 2 million man #OBIdient Mega March, resolving the Labour Party/Support Groups controversies, MAP4PO projects and proposed projects for Peter Obi and Labour Party, how to donate for the 2 million Man march and campaign projects for Peter Obi and Labour through MAP.
The conversation which was attended by well-over two thousand persons saw participants speaking passionately to the topical issues already highlighted. The Secretary General of MAP Nigeria, Efio-Ita Nyok, in an interaction with our correspondent disclosed that, 'the take home from Tuesday 27th September 2022 Twitter Space Organised by Mass Appeal Project, MAP Nigeria are as follows:
Join the conversation tomorrow at 7.00PM (WAT). Click the link. https://t.co/fQLGOYb6Sx@FS_Yusuf_ @paeyakdpeople @IkakkeBassey @MmantiUmoh @OfficialEkanem @nature_udoh @morphysampson @Lin_charles12 @EfioItaNyok @MissPearls @BiggVin @MfonMkpong @appealprojectng @OmoriOmoriE pic.twitter.com/QlFuacPN01

— Labour Party Akwa Ibom State (@LPakwaibom) September 26, 2022
'There's a (fundamental) structural problem in respect of the synergy between Labour Party, LP and political support groups across the country beyond LP Cross River and Akwa Ibom. This structural defect has significant implications for Obi/LP's anticipated emergence.
'Political support groups must admit that, constitutionally, there is no independent candidature in Nigeria so they must look for a way to walk/work with LP which is the sponsor for Peter Obi as her presidential candidate
'LP across the country must also admit that she can't successfully prosecute the presidential elections without working/walking with political support groups. This is premised on the fact that LP wasn't ready for the defection of Peter Obi to LP. And these support groups have an energy that should be deployed accordingly
'LP doesn't have proper representation in the rural areas. Majority of Nigerians with her penchant for theft and fraud are 'cashing out' from both ends as members of LP, and members of political support groups. In fact, their motivation for joining party and/or political support group is to benefit financially exclusively.
'Finally, there's dire need for a strategy which would help LP and political support groups to walk/work hand in gloves', Nyok concluded.