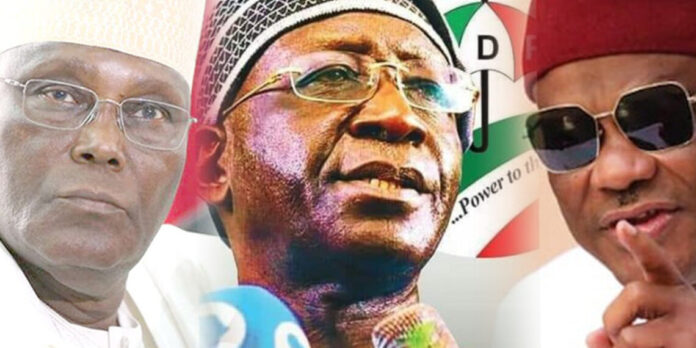 Reading Time:
3
minutes
Brash, incontinent and laudatory, with a generous semblance of a stormy petrel, that is how Governor Nyesom Wike possibly comes across to those of us who have never met him in the unique manner that only he can conjure. Were he to feature in the dramatic art, he could quite possibly have been a tragicomedic character, presenting the grim reality of human tragedy in scenes of mirthful ribaldry and self deprecating guffaws.
The twist however, is that Nyesom Wike is neither a comedian nor is he an actor. He is surprisingly, a very serious and meticulous man with a genial sense of humour. He is also a man of duty, of friendship, a man of principle, with the memory of a dolphin, which recalls every good deed and unfortunately also, every slight and debt. It would appear that Atiku Abubakar and Iyorcha Ayu did not know Wike well enough before they undertook to tango with him. And the duo are not fortunate to be friends of Rotimi Amaechi who may have lend them a wee bit of his own experiences with the enigma called Nyesom Wike.
If Wike's trenchant posturings on television in the last few months have exposed the rotten underbelly of the PDP, it has also exposed the hubris in Alhaji Atiku Abubakar, the party's presidential candidate. It has shown him up as proud and arrogant and as a man who still worships in the shrine of nepotism and corruption, ala Cousin Muhammadu Buhari.
Atiku reminds one of the folk story where all the animals gathered together to choose a king for themselves and it was suggested that the duck fowl would best occupy the position because it could walk, fly and swim. But alas, before the crowning ceremony, the duck began to walk and prance about with the cockiness and arrogance of a king. It was the tortoise that first noticed this with alarm and drew the other animals attention to the kingly gait. In the end the animals out of fear that the worst might happen should the duck become king withdrew their support for its candidacy leaving the duck only with the majestic walk without a crown.
And Atiku may yet end up without a crown because of hubris which now clearly appears to be his tragic flaw. William Shakespeare wrote that "the abuse of greatness is when it disjoins remorse from power." The hawks are all over Atiku today buoying him up with false assurances and telling him what a great man he is. Atiku might well be a great man, but he must listen to himself first, he must stoop to conquer. The North will vote for him alright, they will vote for their brother. Even president Buhari may well vote for Atiku. But he needs other sections of the country as well to fulfil the constitutional requirement precedent to his being declared President.
In the wake of the Peter Obi phenomenon it is rather surprising that Atiku is not doing realpolitik. He is still typically condescending to his colleagues from the South, as if to say "mai za su yi"? (what can they do?) Alhaji Atiku, they can do a whole lot. Already, the word on the street is that a man who cannot unify his party cannot possibly unify the country, and the evidence is all laid out for all to see.
Nyesom Wike threw the clanger yesterday, that Atiku gave and Ayu took, all very typical of the tragic story of PDP. Nyesom Wike may well sink the ship of PDP, which is already approaching the iceberg, if Alhaji Atiku does not find the wisdom to climb down from his high horse, and pull the chestnut out of the fire before it is burnt. Underestimating Governor Nyesom Wike is a strategic mistake at this time. Na small shit de spoil nyash.
Dominic Kidzu writes from Calabar.