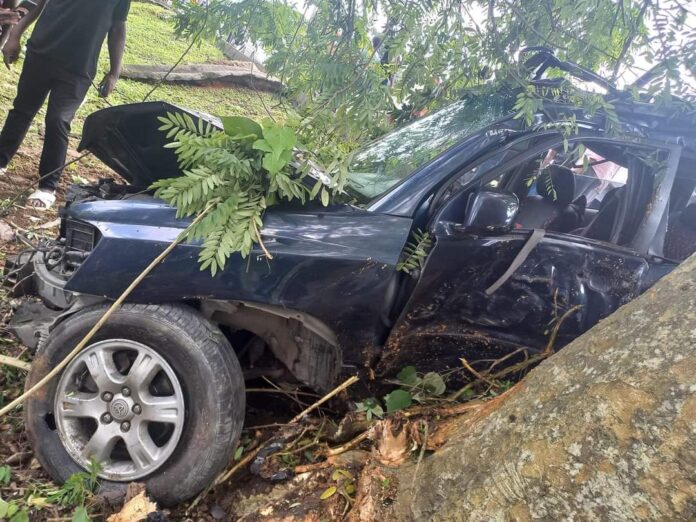 Reading Time:
3
minutes
Nigerians have reacted variously to the news of a yet-to-be-identified lady who reportedly passed on on Sunday after involvement in a ghastly autocrash in Calabar.
NEGROIDHAVEN garnered that she was involved in the said autocrash at Murtala Mohammed Highway around the New Secretariat axis after reportedly pursuing in her car after her husband from Spar Mall at Barracks Road axis whom she suspected was intimately involved with another lady who was sitting in front of the husband car.
Nigerians have reacted differently with some outrightly doubting the credibility of the citizen report by Stephen Okposin who first broke the news it on Facebook. Some have doubted Okposin's report alleging that the lady in the car with the husband is a lover. Others have queried why the husband was running.
For instance, a netizen has said, 'Who has confirmed that the other babe was a side chic or even involved with the man? Or we are busy doing timbotimbo? God no gree…' Another netizen, this time, a journalist with CRW observed 'In as much as I don't doubt the accident didn't happen, Stephen Okposin who the story is been credited to does not have it on his wall, he has deleted it or abi eyes dey pain me ?. That is not the question here. The question is: How did he know the woman was pursuing the husband who allegedly carried a side chick all the way from Spar? How did he know that the person the man carried was a side chick? Did the woman or man discuss or disclosed it to him? Did he monitor the event from Spar where he alleged it all started to New Secretariat where it happened when he (Stephen Okposin ) failed to mention? These and more the "eyewitness" Stephen Okposin needs to answer for this his emotional spread.
Before you react and pour emotions for or against, know that Stephen Okposin was just a passersby.'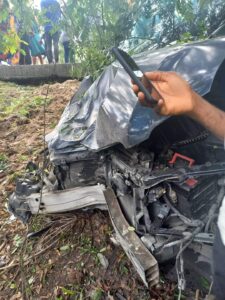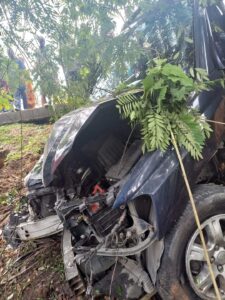 Others have condemned the inability of the late lady to manage her emotions at the suspected sight of seeing or getting a tip off that her husband was with another woman suspectedly an amorous friend. Others have: 'Let's just pray for a fallen sister and may it not happen again… abeg women be calming down and try get conversation with ur(sic) man. Am so sad fast and furious gone wrong', Adie Ndah Ekpenyong. Ewa Ngkoms has said 'Chasing a man because he was with a side chick? You see why women need to be busy improving on themselves???? If she was busy affecting her world even if that man hangs side chick like earrings she won't have the time to rehearse world war sprinting over nonsense reasons. The girl might not even be the man's girlfriend but she and her husband were afraid of the unknown perhaps following past experiences and if she is his girlfriend, then that's a marriage invitation sent out already because she will some day replace your seat. It's sad. RIP in your next world LEARN. Women stop seeing marriage as an achievement to enslave your productivity, imagine a tall beautiful lawyer dieing trying to trail her husband just to ensure the marriage is kept safe? Marriage has caused many so much pain and if you're one of those you can choose to walk away or know how to manage it but definitely not to the detriment of your LIFE'.
Some are sympathetic to the woman: Diana-Mary Nsan said 'Let us pray for the repose or healing of her soul first. To be honest, not everyone has emotional capacity to stand emotional stress they are served. The one thing you must always pray for as a woman, is wisdom. Wisdom is profitable to direct.Wisdom will make you emotionally mature. I feel for the children, all three of them. I honestly do.'
Information reaching our news desk suggests that the bereaved wife who trailed her husband from Spar Mall at Barracks Road to New Secretariat at Murtala Mohammed Highway where the unfortunate ghastly autocrash occured is: a tall, beautiful Lawyer with three (3) kids. She has passed after a brief bout with unconscious.