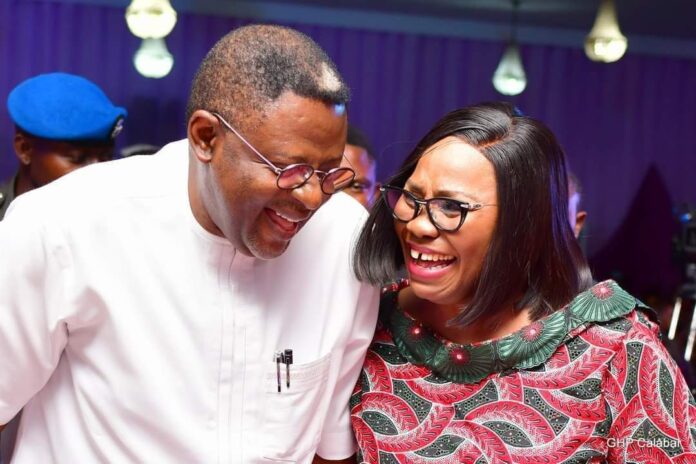 Reading Time:
2
minutes
Calabar – Good governance is often measured by its impact on the lives of the most vulnerable in society, and within just four months in office, the First Lady of Cross River State, Her Excellency Rev. Eyoanwan Otu, is earning accolades for her unwavering commitment to this cause.
Some elderstatesmen in the state, namely, Hon. Eyo Nsa Ekpo Esq., Sir Maurice Effiwatt ksji, Hon. Victor Okon, Hon. Mrs. Ada Egwu, Prof. Emmanuel Eyo Esq., Rev. Hon. James Anam, Hon. Chief Ani Esin and Hon. Joe Etene Esq., have identified these ten areas of the first lady's intervention as commendable. They expressed their commendation via a recent press release sighted by NEGROIDHAVEN.
According to this group, Her Excellency's agenda in office has been marked by compassionate and proactive interventions that have touched various aspects of the daily lives of Cross Riverians. The state's less privileged have witnessed significant improvements in their circumstances through these remarkable initiatives:
1. Malaria Control: Her Excellency launched a comprehensive malaria control program, distributing insecticides and mosquito nets across the state to combat this pervasive health issue.
2. Charitable Outreach: Rev. Eyoanwan Otu's visits to orphanages and homes for the elderly have resulted in substantial donations of food items, clothing, and a generator, providing essential support to these vulnerable groups.
3. Rehabilitation and Counselling: In a groundbreaking move, the First Lady visited the Nigerian Custodial Center in Calabar. During this visit, she offered prayers and counseling to inmates, encouraging them to aspire to become productive citizens upon their release. She also supported the renovation and construction of vital facilities within the facility.
4. Street Children Rehabilitation: A unique pet project was launched to rehabilitate and reintegrate street children into society, offering them a chance at a better future.
5. Free Medical Outreach: Healthcare services were extended to grassroots communities through free medical outreach programs conducted in eighteen (18) Local Government Areas of the State.
6. Scholarships and Educational Support: Her Excellency awarded scholarships to students in higher institutions, with a focus on fatherless children. Back-to-school kits were also provided for junior secondary school students.
7. Support for the Physically Challenged: Rev. Eyoanwan Otu reached out to the physically challenged by donating wheelchairs, crutches, and providing financial assistance to empower them.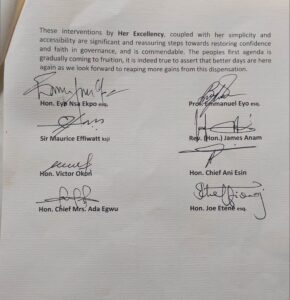 8. Women's Right Advocacy: Her Excellency addressed women's rights issues in rural communities, particularly in Obanliku Local Government, championing the cause of women.
9. Facilitating Donor Agencies: Her Excellency played a pivotal role in hosting donor agencies and critical stakeholders, drawing attention to the needs of rural women in the state.
10. Promoting Women's Networking: The 23rd Women's Council was hosted, creating a platform for women to network and exchange ideas.
These initiatives, marked by Her Excellency's simplicity and accessibility, are seen as significant strides towards rebuilding trust and confidence in governance. As the "People First" agenda unfolds, Cross Riverians are experiencing firsthand the tangible benefits of this administration. It's a promising sign that better days have returned to the state, and residents eagerly anticipate more positive outcomes in the days ahead