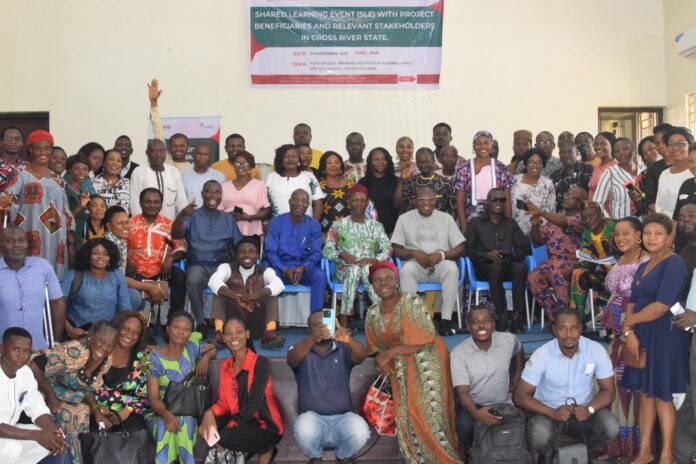 Reading Time:
2
minutes
Calabar – In a collaborative effort to address and combat sexual and gender-based violence (SGBV) and early forced marriage (CEFM), community leaders and stakeholders in Cross River state have come together for a Shared Learning and Experiences Sharing Event (SLE). The event was organized by Girls Power Initiative (GPI) on Wednesday in Calabar as part of the Strengthening Civic Advocacy and Local Engagements (SCALE) Project, with support from USAID through Palladium.
The event brought together a diverse group of participants, including community leaders, religious leaders, representatives from the Ministry of Women Affairs (MoWA), members of community-based organizations (CBOs), and media personnel.
Following robust deliberations and sharing of experiences during the 5 hours event, several critical resolutions were reached:
1. Intensified Sensitization: It was agreed that sensitization and awareness campaigns on SGBV should be intensified in all corners of Cross River state communities. Notably, community leaders and religious leaders should understand that SGBV cases should not be treated as mere family matters. Instead, they should be reported to the appropriate authorities in accordance with the Violence Against Persons Prohibition (VAPP) law.
2. Justice System Reformation: Participants emphasized the need for reformation within the Cross River State justice system. Delays in the dispensation of justice, especially in SGBV cases, should be minimized.
3. Protection for Witnesses: Recognizing the potential dangers, it was noted that the absence of protection for witnesses in SGBV cases could deter individuals from reporting such cases. Advocates called for mechanisms to protect witnesses from harm.
4. Virtual and Physical Court Sessions: The group proposed the deployment of both virtual and physical court sessions for SGBV cases. This approach would facilitate the speedy dispensation of justice.
5. Strengthening of Family Courts: It was suggested that family courts be strengthened and duplicated across the state, giving them the capacity to handle criminal cases, particularly those related to SGBV.
6. Training of Police Personnel: In the pursuit of justice, police officers handling SGBV cases should receive specialized training and ongoing retraining. This would ensure that SGBV survivors are treated with the utmost respect during investigations and interviews.
7. Accountability for Law Enforcement: Any law enforcement officers found to be obstructing investigations or the course of justice in SGBV cases should face appropriate accountability measures.
8. Empowerment Programs: Participants urged the government to establish welfare and empowerment programs for women. This would serve as a safeguard against economic vulnerability, which often exposes them to exploitation.
9. Complementary Bye-Laws: While implementing community bye-laws to address SGBV, the group emphasized the importance of ensuring that these bye-laws complement, rather than contradict, existing state laws.
10. Personnel Training: To better assist with SGBV matters, health and judicial personnel should undergo training and retraining.
11. Non-Custodian Sentences: The group recommended the adoption of non-custodian sentences, as prescribed in the Correctional Service Amendment Act. This measure would help prevent the economic destabilization of families in cases where a culpable breadwinner is involved.
This event signifies a significant step forward in the fight against SGBV and CEFM in Cross River state. By bringing together community leaders and stakeholders, a united front has emerged, determined to address these critical issues head-on.