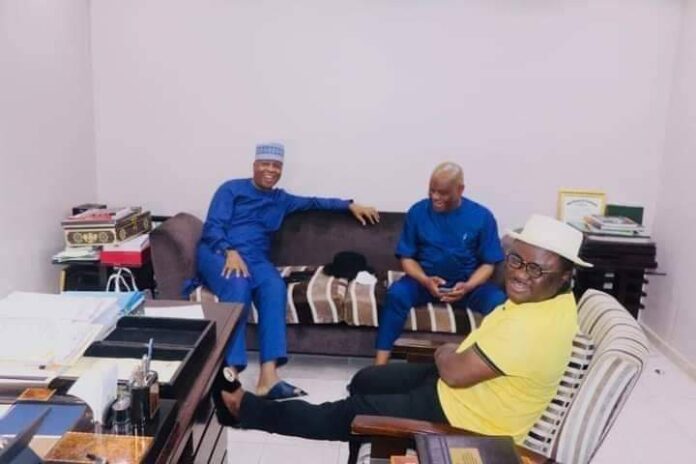 Reading Time:
< 1
minute
A Nigerian social commentator, Simon Utsu, has described the body language of His Excellency the Executive Governor of Cross River, Ben Ayade, in the photograph featuring Ayade, former Senate President of Nigeria's 8th Senate, Dr Bukola Saraki and His Excellency the Executive Governor of Rivers, Nyesom Wike.
Utsu while analysing Saraki has this to say: 'Saraki is the most relaxed man in the room. His feet are stretched and his arms fully exposed.'
Concerning Wike he said 'Wike as usual, is very confident- you can see from how he spreads his legs. Even though it looks like he's not comfortable being in the same room with Ayade.'
About Ayade he says 'Ayade looks a bit intimidated. From his body language. His legs aren't outstretched; his right leg is tucked in. Could be either a sign of discomfort, timidity or maybe he's overwhelmed by the aura of the other two VIPs in the room.'
This photograph looks recent and may have to do with Ayade attempting to reconcile his rift with PDP chieftains, failure upon which he may defect to the ruling All Progressives Congress, APC. In fact, Utsu suggested this sentiment indirectly when he quipped thus 'I heard with one ear that Ayade has told some APC Governors and senior party members that he's going to defect after the senatorial by-election.'
The conversation among some quarters that Gov Ayade is defecting to the APC is gaining strong currency especially on social media.
Do you agree with Utsu? Is Ayade looking
intimidated or otherwise?