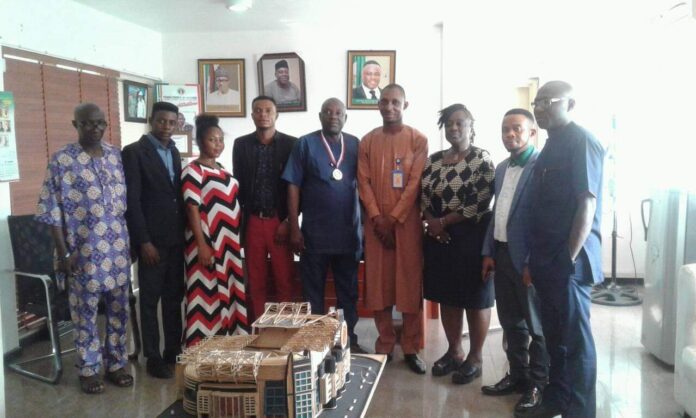 Reading Time:
2
minutes
By Esther Okoi
Committed to Youth development and value reorientation, the Commissioner for Youth Development and Skills Acquisition, Hon. Signor Omang Idiege has affirmed that His Excellency, the Digital Governor of Cross River State, Sen. (Prof.) Ben Ayade will not rest on his oars in his Industrialization drive across the Eighteen Local Government Area, aimed at creating employment opportunities for youth across the State.
Commissioner Idiege who reiterated that the Governor Ben Ayade-led administration's youth friendliness cannot be overemphasized stated this during a visit by members of Centre for Peace and Value Reorientation, held in his office. Signor Idiege however added that for any society to experience exponential growth, youth development must be taken seriously, noting that it is one of the reasons the Governor Ben Ayade-led adminstration is youth inclusive.
Lauding the Centre for Peace and Value Orientation for the recognition in presenting him with the 2020 Intergrity Stewardship Award, the Commissioner charged youth to stand out and be the best in whatever they do, allowing nothing to discourage them, noting that they should be conscious and deliberate as leaders in the making.
Also speaking, the Permanent Secretary of the Ministry, Mrs. Geraldine Akpet-Ekanem appreciated the group for the initiative and for not relying on the Government for appointment to find relevance or engaging in criminal activities, stating that the award speaks volume to the Ministry of Youth Development and Skills Acquisition as being SERVICOM compliant amidst other accolades. She however expressed the readiness of the Ministry in tandem with the ideals of the State Government to be responsive to youth related matters and protect their interest at all times.
Earlier, the Executive Director, Centre for Peace and Value Reorientation, Comrade Oyibo Abraham, informed that the main objective of the Centre for 2020 is Good Governance with reference to Education, Health, Economic Viability, Youth inclusiveness in Governance, amongst others, adding that they abhor corruption; condemn leaders with no respect for the rule of law, the youth and poor masses; and are resolute, determined and committed to the ideals of democracy and servant leadership.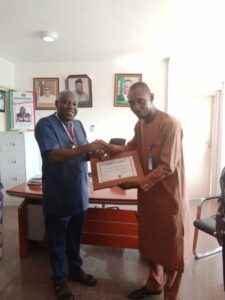 He espoused that Hon. Signor Omang Idiege was chosen following a confidential independent assessment exercise conducted using opinion polls, questionnaire, interviews with informants amongst others which mirrored his performances as a public office holder, hence enlisting him as one of the most ethically responsible personality. Comrade Oyibo however pleaded with the Ministry to ensure that there is adequate policy framework to harness and develop the State youth policy programmes and enhancement of economic and social welfare of the State.
Highpoint of the occasion was the decoration and induction of Hon. Signor Omang Idiege as a "Service Ambassador" and the presentation of a "Certificate of Stewardship," confering on him the accolade of an outstanding leader in service and with a call to do more for the youth of the State and lend his voice to the ongoing clarion call to reform Nigeria.