Reading Time:
3
minutes
REPORT OF ON-THE- GROUND INSPECTION OF THE NEGATIVE EFFECTS OF LAFARGE
HOLCIM INDUSTRIAL ACTIVITIES IN DESIGNATED COMMUNITIES IN BAKASSI LGA OF CROSS RIVER STATE CONDUCTED ON 17TH FEBURARY 2021.
INTRODUCTION
The on-the-ground assessment was inspired by the motion sponsored by Hon Anselem Asem Edet (Majority Leader/Councillor representing Ward 9, Bakassi LGA) on the 15th of February 2021 at the hallowed chamber of Bakassi Legislative Building. The motion is tagged MOTION FOR THE INCLUSION OF BAKASSI LOCAL GOVERNMENT AREA AS BENEFICIARY OF ENVIRONMENTAL IMPACT ASSESSEMENT (EIA) PERIODIC COMPENSATION/PAYMENT
WITH REFERENCE TO LAFARGE HOLCIM AND AFFECTED COMMUNITIES.
The area under review covers the entire aquatic waterways through the tributaries of the Atlantic Ocean which beautifies Bakassi Local Government Area, encompassing the entire Akpabuyo and Bakassi LGAs.
ON-THE -GROUND ASSESSMENT TO THE CORE AFFECTED COMMUNITY (ESUK AYE)
The team was made up of the following persons;
1. Hon Edet Anselem Edet, Councillor Ward nine (9) and Majority Leader
2. Hon Grace Etim Bassey, Councillor Ward seven (7) and Chairperson
House Committee on Health
3. Hon Edem Effiom Ekeng, Councillor Ward five (5) and Chairman Housed
Committee on Finance
4. Mr Oku Ekpenyong, Deputy Clerk of the Bakassi Legislative Council and
5. Photographer.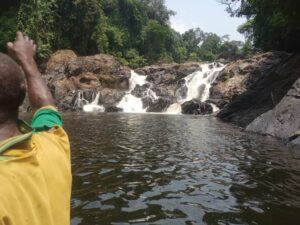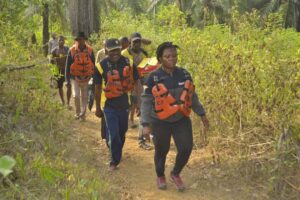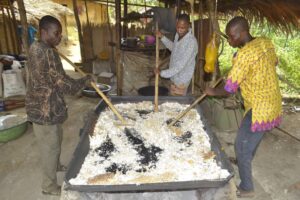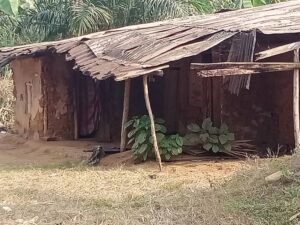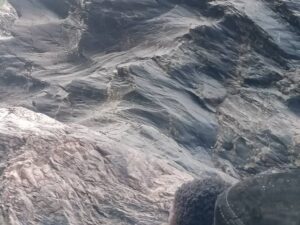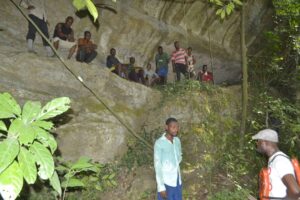 The team arrived Esuk Aye community in Bakassi Local Government at 8.56AM and were received by the Village Head, Chief Okon Asuquo Iwang,  and other community members.
Before the inspection began, the Village
head expressed joy to have a team from from Bakassi council. In his speech, he said that the people of Esuk Aye have been neglected by the Government while at the same time suffering from diseases due to the industrial activities of Lafarge Holcim company. He added that there are no social amenities like healthcentre, accessible and clean water etc. The chief apointed the community youth leader, Mr. Okon Etim, to pray and committ our journey into God's hand.
The team and members of the community commenced the inspection exercise at 9.15AM to ascertain the extent of effects of the industrial activities by Lafarge Holcim in the community, with the aim of also discovering the natural resources situated in these community. The first place visited was Minimako Lime Stone which was a 20 kilometer walk. Esuk Aye community is blessed with natural resources like Crude oil, Limestone, Clay soil, Ewidi waterfall and virgin forest vegetation for reserve.
FINDINGS
After several interviews conducted on native residents of the community, here are the findings of the visiting crew during this
assessment exercise: The company's industrial activities disposes toxic wastes into the atmosphere, contaminating waters of these villages (Esuk Aye Community and its environs), these communities have suffered constant effluxion of all chemical waste into their tributaries, which rivers empty into the Cross River State Estuary zone that migrate straight into the Atlantic Ocean.
Recently, there has been an expansive outbreak of disease of River Blindness which affects the eyes and skin caused by Filarial worm. Again, the activities of Lafarge Holcim have posed a great danger to the environment and lives of the people of Bakassi Local Government, such dangers include; loss of aquatic lives, marine erosion, industrial flaring, flood, oil spillage, loss of biodiversity and poor quality to domestic water are serious environmental hazard to the people of Bakassi.
In summary, Esuk Aye and other communities in Bakassi Local Government  Areathat are supposed to be core beneficiaries of Environmental Impact Assessement (EIA), Benefit/ Compensation and are now the leeway
and corridor of the pollution, devastation and hazards of Lafarge industrial operation. Other communities include; Ifiang Ayong, Ifiang Nsung, Edik Okon Idem, Esuk Okon, Ikot Iwang, Ikot Okon Ekpri Iwong, Ikot Effiom, Akwa Obutong, Ikang, Ikot Edem Oku, Edik Idim, Ine Abasi, and Esighi respectively.
 There is no Health Centre, women and children go to traditional healers to receive treatment including pregnant mothers
 No access to road
 No School
 Non portable water
 The children in this community walk 4hours to school in Ekong Anaku
in Akampa Local Government
 Elder people are most affected with eyes disease
 The community is is blessed with natural resources like, limestone,
crude oil, waterfall and virgin forest.
WAYFORWARD
 That the listed communities in Bakassi Local Government should be
captured in the report of Evironmental Impact Assessement (EIA).
 Stakeholders/Government should build and equiped health centre in
affected Communities in Bakassi LGA.
 Portable water like boreholes with solar panel should be constructed
in Bakassi communities.
 Construction of accessible road to Esuk Aye community.
 Provision of public schools at both primary and secondary levels.
Report is written by:
Hon Grace E. BASSEY
Councillor Ward 7
Chairperson, House Committee on Healthcare/NGOs
Bakassi Legislative Council