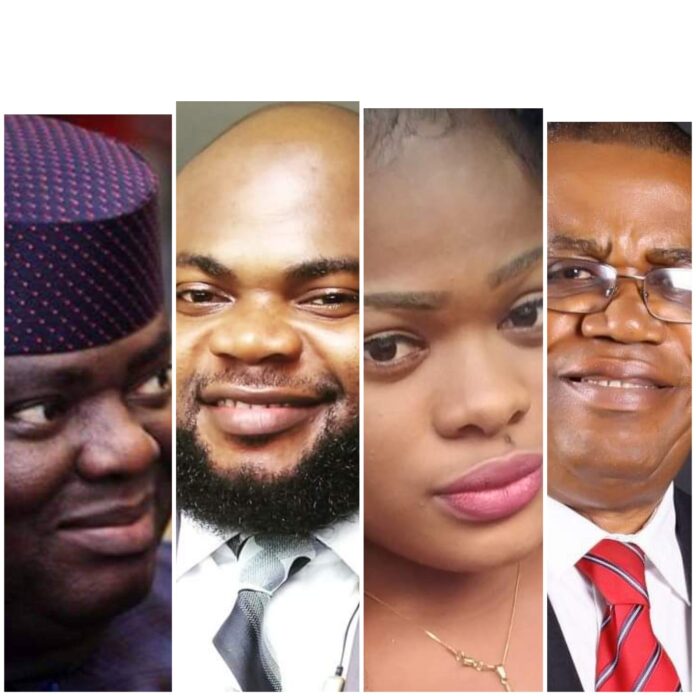 Reading Time:
4
minutes
Kingsley Orok an aide to His Excellency the Deputy Governor of Cross River, Prof Ivara Ejemot Esu, has replied Modlin Odu an aide to Sen. Sandy Ojah Onor of the 9th National Assembly (NASS) who threw perceived insulting tantrums at Esu.
This 2 days ago lengthy reply about which Odu had already apologised is in respect of the frenzy surrounding the defection of Esu to the APC, following after his principal the state governor.
Odu had suggested that Esu needed to defect in order to enable the erudite professor pay his medical bills.
Excerpt from Orok.
THE CHILD THAT THREW A STONE AT A GIANT
Sometime on Monday, May 24, 2021, George Odok Jnr, a senior media practitioner in Cross River State, made a Facebook post (with pictures of H.E. Prof. Ivara Esu), reporting the official defection of the Deputy Governor from the Peoples Democratic Party (PDP) to the All Progressives Congress (APC). The post elicited many reactions from the Facebook friends of Mr. Odok. One of them is Miss Phylo Modlin Odu, and she commented thus:
"Eyeaaaah. Papa doesn't have a choice. Let the small small money he is seeing be there to afford his medications at least".
It ordinarily would be easy to dismiss Miss Modlin's obvious insult with a wave of the hand. But she is a media aide to Sen. (Prof.) Sandy Onor (a serving senator of the Federal Republic of Nigeria and a towering political figure). There is thus the need to respond to the insult to educate Miss Modlin and make the point that she is not a good fit for the position of media aide to the respected senator.
His Excellency, Prof. Ivara Ejemot Esu, is a giant of public service in the state and beyond, a byword for quiet excellence. His career reads like a highlight reel. He had lectured at Kaduna Polytechnic (Kaduna) and at Ahmadu Bello University (Zaria) before transferring his services to the University of Calabar. He was Commisioner for Agriculture, Water Resources and Rural Development under His Excellency, Chief Clement Ebri; Provost of Okoku Campus of UNICAL; Dean of the Faculty of Agriculture, Deputy Vice Chancellor and, later, Vice Chancellor of the University of Calabar; Minister of State for Culture, Tourism and National Orientation; Chairman and Member of several federal boards; and now Deputy Governor of Cross River State. This list leaves out countless other appointments. In addition, Prof. Esu is a recipient of the Officer of the Federal Republic (OFR), a national award conferred by President Olusegun Obasanjo and the Cross River State Honours Merit Award conferred by Governor Donald Duke.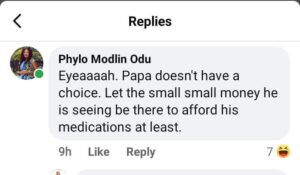 Prof. Esu has done well for himself over the years- by sheer dint of hardwork, wise investment and prudence. And, as a former Vice Chancellor, Prof. Esu is entitled to life pension from the university. He therefore does not ever need to work. However, he has always made himself available for service because he knows he still has so much to offer the society. Such a person obviously does not fit the desperate and helpless picture painted by Miss Modlin. In leaving the PDP for the APC, Prof. Esu did no more than exercise his constitutional right to freedom of association. While it is quite understandable that his former fellow members of the PDP are sad about his decision to cross-carpet, his action certainly does not deserve to attract the insult offered by Miss Modlin.
Again, Miss Modlin indirectly ridiculed Prof. Esu's health. That is quite unfortunate. Every human being is susceptible to attacks by illnesses and diseases.l from time to time. That is why those who are fortunate to be healthy should never laugh at those who are momentarily ill. The tables could turn without warning. Happily, it has pleased God to bless Prof. Esu with good health. On May 3, 2021, Prof. Esu celebrated his 70th birthday. He danced and danced to the applause of those who showed up to share in his joy. His Excellency exercises, watches what he eats, paces himself properly and observes proper rest. These are some of the reasons for his radiant health and why it is so easy for His Excellency, Governor Ben Ayade, to delegate so much to him. One can only hope that Miss Modlin would enjoy a life as long, healthy and as remarkable as Prof. Esu's.
Miss Philomena Modlin studied at the University of Calabar. She thus passed through the university. Regrettably, it appears from her comment that the university did not pass through her. The twin requirements for graduation from the university are 'character' and 'learning'. One wonders what could be the content of the character of someone who offers insult to a man who not only did not attack her but is also probably old enough to be her grandfather.
It is young people like Miss Modlin that have weakened the 'Not Too Young To Run' movement because they show again and again that they are not ready to take the place of our so-called old leaders. Our old people are still pressed into service precisely because, many of our young people have showed that they are not ready to replace them.
It is worrisome that Miss Philomena Modlin works for a personage as remarkable and as distinguished as Sen. (Prof.) Sandy Onor. Senator Onor is brilliant, urbane, respectful, cultured and a master of both the written and the spoken word, attributes that have earned him the respect of his colleagues and made him the unrivalled Cicero of the Nigerian Senate. Miss Modlin would do well to learn from such a man, as her language and character are clearly at odds with those of her principal. It is possible that just as her character escaped the radar of the University of Calabar which allowed her to graduate despite not meeting a critical requirement, it also escaped the radar of the good Senator at the point of recruitment. She has so much to learn.