Reading Time:
3
minutes
The Management of first private university in Cross River, Arthur Jarvis University (AJU), has laid bare facts counteracting the false and malicious allegations/publications of one Dr. (Mrs.) Lilian Ekanem a parent to Miss Mfon Ekanem who is a 100 level student of Mass Communication in the said tertiary institution NEGROIDHAVEN has confirmed.
The position of AJU was stated categorically on Tuesday during a press briefing by the Chancellor and other ranking staff of AJU with journalists and bloggers in Calabar the Cross River state capital metropolis.
Contrary to the misleading claims of Mrs Ekanem, Sir Arthur Jarvis Archibong the Chancellor of Arthur Jarvis University clearly stated that the privately-owned tertiary educational institution does not condone gangsterism, terrorism, cultism and the like vices/ills (as insinuated by Ekanem). Chancellor Archibong further informed journalists and bloggers present at the briefing that AJU is neither shielding any of her accused students from disciplinary measures nor is AJU destroying evidence capable of lending credence to Ekanem's claims.
In the press statement signed by Chancellor Archibong, it says 'I unequivocally place it on record that, Arthur Jarvis University is not and does not represent any of the derogatory and defamatory statements alluded and ascribed to it by Dr. (Mrs.) Lilian Ekanem. The University has zero tolerance for cultism, gangsterism, terrorism and other forms of ills and vices in the University Campus and the larger society.
'Again, for the records, the University is not shielding any student(s) from any disciplinary measures by any appropriate authority neither is the University concealing or destroying any evidence which is capable of corroborating the spurious allegations of Dr. (Mrs.) Lilian Ekanem and her daughter,' the statement read in part.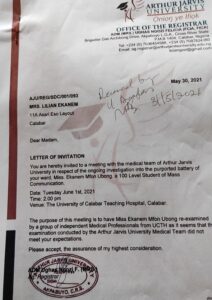 The management of AJU has urged the general public, netizens as well as parents and guardians to be 'skeptical and to not be swayed by this campaign of calumny and negative publicity directed at the university by Dr. (Mrs.) Lilian Ekanem and her daughter. The University has contacted its legal team and given firm instructions to commence legal proceedings against Dr. (Mrs.) Lilian Ekanem and others for libel.'
Background to the quarel between AJU and Ekanem has it that Miss Mfon Ekanem an AJU 100 level student of Mass Communication and daughter of Dr. (Mrs.) Lilian Ekanem was on 19th May 2021 reported to have been assaulted at the female hostel by a group of four fellow female students on the allegations that Ekanem had reportedly stolen notebooks, and other items belonging to the female students. But, before the incident was reported to the Security Department of AJU, Ms Ekanem had put out a call to her mother, Mrs Ekanem who arrived the school premises. She requested for full medical check up of her daughter.
Meanwhile, because AJU had proceeded on first semester vacation and is thus not in session until 18th June 2021, the authority of the institution was yet to invite the said female students involved for questioning by the Disciplinary Committee of AJU to determine culpability of parties. While the management of AJU was considering the best way to address the anomaly, on the 27th of June 2021, at the instance of Mrs. Ekanem and Ms Ekanem, a blog, namely, 9jaStreetTV published that AJU is a terrorist, cult-based academic institution harbouring gangsters, that AJU aided and abetted the alleged attack, robbery and battery of Ms Ekanem while at the same time encouraging the abuse of human rights and violence against women and girls, that AJU is complicit in the alleged crime through concealing, tampering and destroying evidence that would have corroborated the false allegations that Ekanem was roundly beaten by her fellow students.
When contacted on the phone to hear her side of the story, Dr. Mrs. Ekanem who referred journalists to her Facebook account, disclosed that she would be going to court to seek redress while alleging that the incident of her daughter being assaulted happened few days to end of session which in her opinion is enough to cause AJU to have addressed the matter immediately (as at press time, NEGROIDHAVEN was yet to confirm the truth of her position touching on date of end of academic activities at AJU).