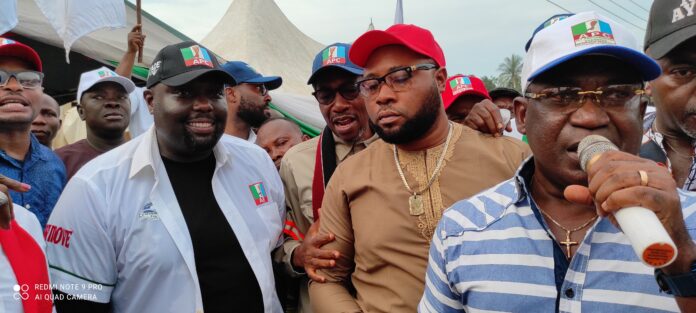 Reading Time:
2
minutes
The Commissioner for Finance in Cross River state, Asuquo Ekpenyong Jnr, has disclosed that the ruling All Progressives Congress (APC) has acquired all the best assets from the Peoples Democratic Party (PDP) NEGROIDHAVEN has confirmed.
Ekpenyong made this disclosure on Sunday during his official reception into the APC in Eniong Abatim, Odukpani LGA in Cross River.
According to the finance aide to the state governor, the defection of Governor Ayade has left the toxic assets in the PDP with choice assets moving to the APC.
His words, 'Any body that tells you that there is a PDP in Cross River state is a liar. It is a lie. It is over. We have acquired the PDP in Cross River state (Let me paraphrase from the Leader of the House of Assembly). I am a finance person so, I'll speak in finance terms: When you are acquiring a company, you will look at the balance sheets, you'll look at the assets, you'll pick the choice assets and you'll leave the toxic assets alone, the bad loan, the non performing assets… They are now left in the PDP. And all the good assets are now in the APC. We have acquired all the choice assets.'
Speaking earlier, Ekpenyong said 'My brothers and sisters, on the 20th of May 2021, the Governor of this state, His Excellency Senator Professor Ben Ayade our leader left the Peoples Democratic Party to the All Progressives Congress (APC), that move was a death blow to the PDP. The PDP in Cross River state is dead.
'Go home, tell your brother, tell your sister, tell your father, tell your mother, tell your son, tell your daughter that Eniong Abatim, Odukpani, Cross River state is now APC! His Excellency made this move on behalf of the 4 million citizens of Cross River. He did it to socket Cross River to the centre.
'What is politics about? Politics is all about attracting development to your area. The Governor has socketed Cross River to the centre to attract the development to the state.'
The event was well attended by dignitaries of the APC across the state including the Rt. Hon. Peter Odey the Leader of the 9th Cross River House of Assembly, Rt. Hon. Francis Asuquo the Member of the CRSHA representing Odukpani, Chief Edet Asia of Fresh Mandate, Elder David Okon the Ward Leader of the APC in Eniong Abatim in Odukpani, Philip Obin the SSA to the Vice President of Nigeria, Dr Janet Ekpenyong the DG of State Primary Healthcare Development Agency etc.