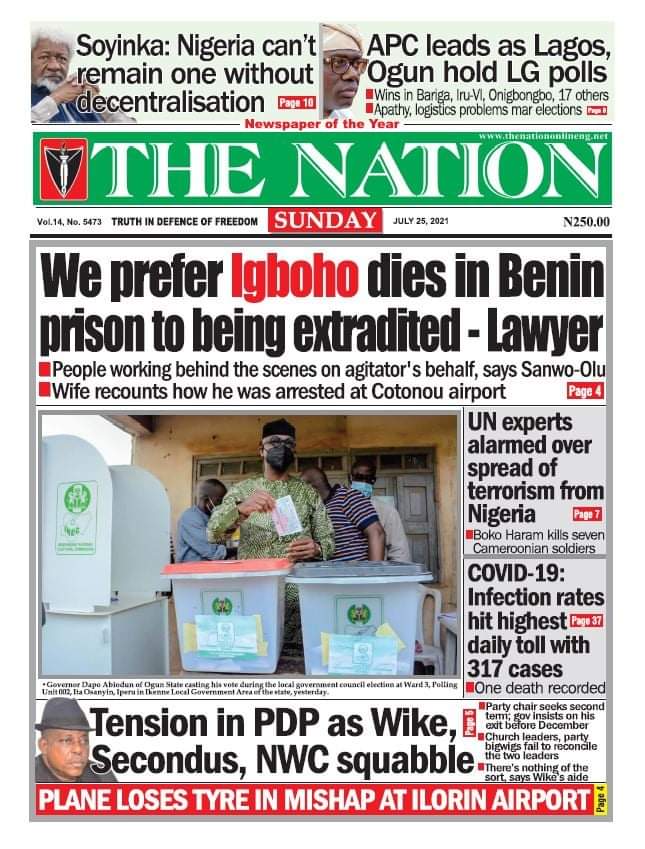 Reading Time:
2
minutes
IPOB
Several unconfirmed reports making the rounds on social media suggest that the Attorney General of the Federation & Minister for Justice, Abubakar Malami, have warned members of the Indigenous People of Biafra, IPOB, to stay clear from the court where Nnamdi Kanu will be standing trial. The trial of the IPOB leader is billed for Monday, the 26th of July, in Abuja.
Below are some of the views tied to the trend:
@PeaceOf wrote: The only way to stop IPOB from storming abuja on the 26th is for the zoo govt to Free Mazi Nnamdi Kanu and give him the date of REFERENDUM because self determination is not a crime but fundamental human right.
@Real_AmaIke: Monday is gonna be very hot in Abuja. IPOB is for peace and zero violence. But Malami can't intimidate us into abandoning our dear beloved leader @MaziNnamdiKanu. Tell me what will make you not to be there if you are between Biafra land and zoo.
@CFC_KELLO10: Yes that's what am saying, no room for fear because they are trying to take advantage of the day. The population of the Biafrans the zoo Nigeria government see in Abuja will determine the judgment they will give.. let's all rise up in mass and storm Abuja.
@TBRVorg: Malami has warned not to see IPOB members around the court where the leader of IPOB is standing trial.
The world is put on notice as we must be in court on Monday 26th July, 2021. We will not forgive should any Biafra loose his life that day.
@princeeil: For the fact that malami said he doesn't want to see IPOB members at the court on 26th/July/2021, I'm boarding a flight to Nigeria, Abuja to be precise.
@DailyPostNGR: Nnamdi Kanu's trial: Storm court on Monday, don't be intimidated – Adeyanju tells IPOB supporters.
Tinubu
A cross section of Lagosians have taken to social media to express dissatisfaction over the low turn out that greeted today's local government elections in the state. According to them, the low turn out recorded was as a result of lack of interest and confidence in the Electoral process.
Others said the APC Chieftain Chief Ahmed Bola Tinubu is the reason why Lagosains decided to boycott the elections, as they already know its outcome beforehand.
@jrnaib2: #LagosElections2021 is indeed the reason why Tinubu and APC are against Electronic Transmission of Result. The Dog & Baboon will be soaked in blood come 2023, because we will never allow APC to continue after surviving Buhari's regime.
@daironofiou: Hmmm, we are not ready na only social media woke we dey form… Today LG election nobody come out but I still see Tinubu trending, we like to be blame people for our miserable life.
@OvieNews: The real electorates are spending hours to vote their APC candidates in Lagos, the Twitter voters are bothered about the next housemates of DSTV BBNaija. It's reminiscent of 2019 and will play out in 2023 again with Osinbajo/Fashola/Amaechi or Tinubu doing victory laps before noon.
@strangephas: As bad as this may look,it's a also a strong message to this government that the people are tired. Election does not really count under this useless government. Brother Tinubu has candidates everywhere.
-By Philip Obin