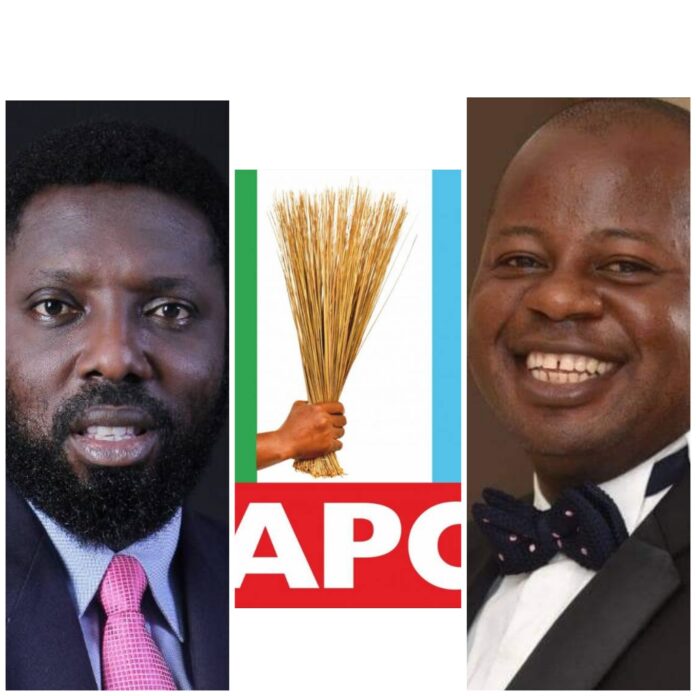 Reading Time:
2
minutes
The All Progressives Congress, APC in Cross River has produced a parallel/factional state EXCOs after the 16th October state congress NEGROIDHAVEN can report.
Saturday event produced two chairs, namely, Alphonsus Eba and Egbeji John Ogon.
See complete list of Cross River APC State Executive Committee-elect chaired by Eba:
State Chairman – Barr. Alphonsus Eba
State Deputy Chairman – Eka Williams
State Secretary – Barr. Bassey Offiong Mensah
State Assist. Secretary – Hon. Joseph Ogar
State Legal Adviser – Barr Awah Pius
State Assist. Legal Adviser – Barr. Umoh Etim Effiong
State Treasurer – Godwin Inyang John
State Assist. Treasurer – Dr. Mathew Egong
State Organizing Secretary – Engr. Thomas Aruku
State Assist. Organizing Secretary – Dr Owoh Erim Agbor
State Publicity Secretary – Erasmus Ekpang
State Assist Publicity Secretary – Hon. Emmanuel Edem Inyang
State Financial Secretary – Effiom Bassey Effiong
@OfficialAPCNg in Cross River produces parallel state EXCO after 16th October congress pic.twitter.com/f5iMY15bmH

— NEGROID HAVEN (@NegroidHaven) October 17, 2021
State Assist. Financial Secretary – Mr Erong Igwe
Stats Women Leader – Dr. Pauline Akor
State Assist Women Leader – Mrs Maria Asumpta Offiong
Zonal Vice Chairman North – Emmanuel Ateb
Zonal Vice Chairman Central – Hon. Abubakar Ibiang
Zonal Vice Chairman South – Mrs Tity Ndofon
State Youth Leader – Emmanuel O. Bassey
State Assist Youth Leader – Elemi Cyril Emmanuel
Senatorial Youth Leader North – Dr. Joseph Idagu Ogar
Senatorial Youth Leader Central – Hon. Samuel Ankwo
Senatorial Youth Leader South – Mr. Cyril Ene
Senatorial Women Leader North – Mrs Inakefe Janet
Senatorial Women Leader Central – Mrs Love Eroma Agbor
Senatorial Women Leader South – Dr. Helen Isamoh Egodo
State Auditor – Mr Charles Iru Iyam
State Assist Auditor – Offum Festus Agbor
State Welfare Secretary – Hon. Okora Ekawu
State Assist Welfare Secretary – Eld. Akiba Ayi Okpok
State Special Leader – Chief Edet Ita Asia
Ex Officio 1 – Mr Joseph Ibia
Ex Officio 2 – David Alui Along
Ex Officio 3 – Lukpata Benedict Ikade
Ex Officio 4 – Chief Enebong Umana
Accordingly, the Ogon led EXCO is thus: Comrade Egbeji John Ogon -State Chairman, Chief Francis Ekpenyong – State Secretary, Elder Comrade Iso Bassey Edim -Publicity Secretary.