Reading Time:
< 1
minute
The Nigerian Labour Congress, NLC and Trade Union Congress, TUC in Cross River have slammed Messrs Alfred Mboto the Permanent Secretary of Governor's Office and Effiong Ita Umoh for going about with security officials to break the chains used to secure government premises NEGROIDHAVEN can report.
In a 14th October 2021 circular tagged bulletin 5, the document reads in part 'by breaking our chains, they have truly broken the chains used in oppressing the workers and retirees of Cross River state since 2015. We are indeed free now to continue to demand for our right!'.
While encouraging her members to continue to stay at home, they warned the public to be wary of any security breech on government property and hold the duo of Mboto and Umoh responsible.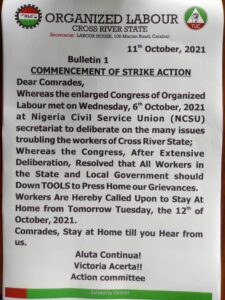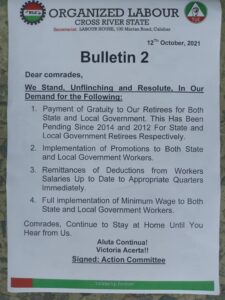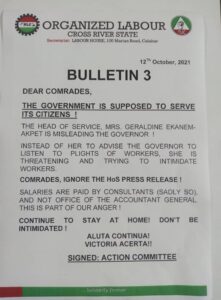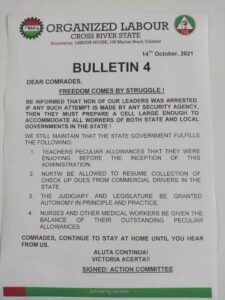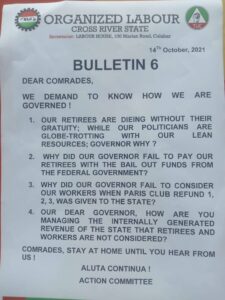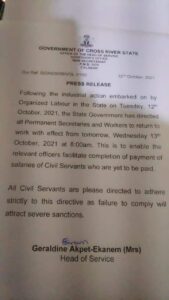 Recall that organised labour in the state embarked on an industrial action beginning from Tuesday 12th of October as a way of pressing home certain grievances around four demands of teachers, NURTW, autonomy for the judiciary and legislature, nurses/medical practitioners and pensioners.
Meanwhile, the Head of Civil Services in the state, Mrs Geraldine Akpet-Ekanem, through two circulars of 12th and 13th October directed all Permanent Secretaries and civil servants in the state to resume work to advoid dire consequences.