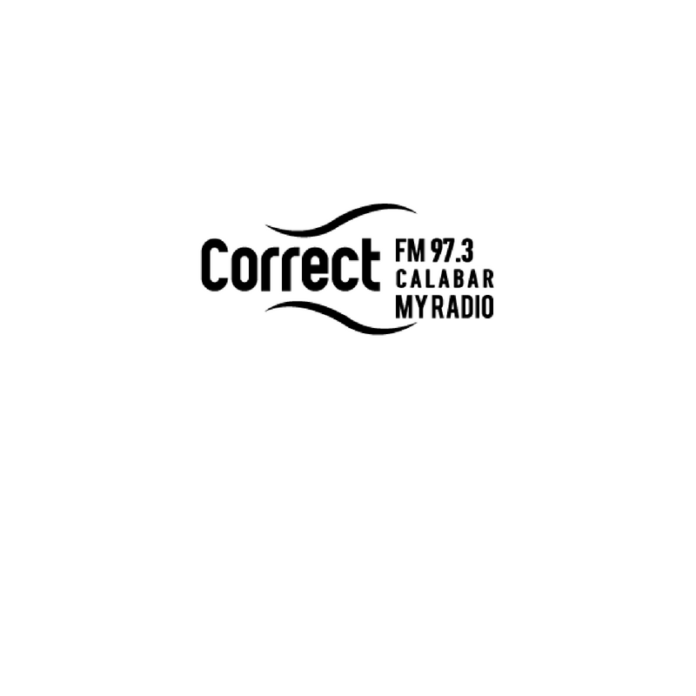 Reading Time:
2
minutes
Correct 97.3FM has been acknowledged as the most listened radio station in Cross River followed by Hit 95.9FM NEGROIDHAVEN can report.
This is according to statistics generated by a public thread made by our editor on Tuesday 2nd December 2021 on Facebook where he asked: 'Which is the most listened radio station in Cross River? And why?'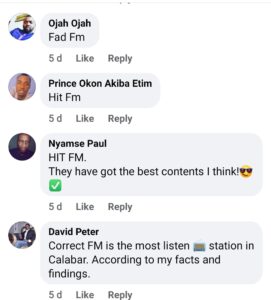 The thread which generated 65 comments and garnered 14 likes had voting in this manner: Hit 95.9FM 11, CRBC Radio 1, Correct FM 31, FAD 93.1FM 3, and Sparkling 92.3FM 2.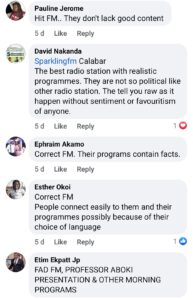 Some of the reasons stated for the pattern of voting goes like this: 'Correct FM. They communicate in the people's language', says Bencourage Odey; 'Correct FM, cos they use street language' says Efiom Attoe; 'Correct FM Hit FM frequency isn't clear anymore and too much ads de worry them' says Abasifreke Asuquo; 'Hit FM Their content cut across all categories of person', says Joseph Isek; David Nakanda says 'Sparklingfm Calabar The best radio station with realistic programmes. They are not so political like other radio station. They tell you raw as it happen without sentiment or favouritism of anyone.' Pauline Jerome says 'Hit FM.. They don't lack good content'. 'Correct FM bcos they can communicate to the least of the uneducated. But Hit FM and Fad FM their English too heavy, even when they attempt to speak pigin, them dey wan add phoney inside. Who does that?' according to Ud Offem; Esther Okoi said 'Correct FM People connect easily to them and their programmes possibly because of their choice of language'; 'HIT FM. They have got the best contents I think!', said Nyamse Paul.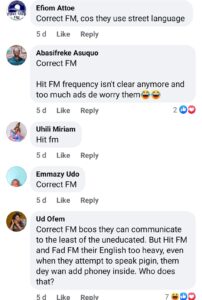 Further findings suggests that despite Correct FM being the most listened to radio station, between 6AM and 12PM the listening patterns is such that listeners dot on varied stations depending on specific programmes at particular belts. The Morning show on Correct FM between 6AM to 8AM is arguably most listened to, while the People's Opinion on FAD FM between 8 and 10AM is most listened to, Hit FM seem to be the most listened to between 10AM to 12PM.