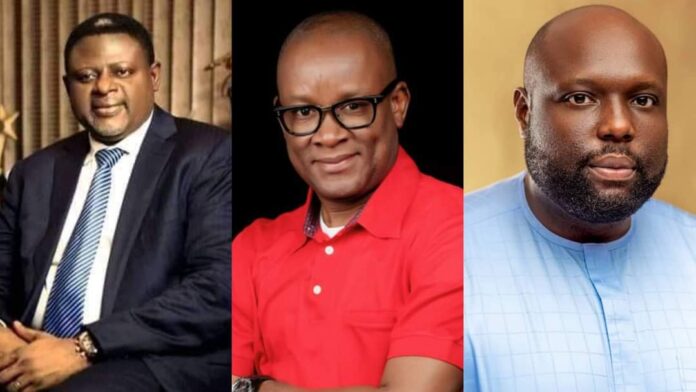 Reading Time:
2
minutes
Ahead of the 2023 general elections, former Senator representing Cross River South Senatorial District, Sen. Prince Bassey Otu despite leaving government seven years ago is still considered by many as one of the favourites to emerge the next Governor of Cross River State.
'Sweet Prince' as fondly called by his admirers was principally forced out of the Senate by former Governor Liyel Imoke in 2015 largely because of the governorship calculation. It is rumoured that Imoke saw him as a big threat to the governorship ambition of his friend, Sen. Gershom Bassey.
But, seven years after, Otu 's name has continued to reverberate across every length and breadth of the state and it can't be a mere coincident (sic). Possibly, there's something he did while in power that has endeared him to people across party lines years after leaving office.
Clearly, there's something to learn from him on how he's managed to remain so popular and is so loved even when he's not in a position to give out largesse.
Another politician who has remained relevant and popular in the politics of the state a few years after leaving office is Sen. John Owan Enoh, former Senator representing Cross River Central Senatorial District and Governorship candidate of the All Progressives Congress, APC in 2019.
Even as a reps member, representing just two local government (Etung/Obubra) prior 2015, Senator Owan-Enoh was considered a "super" reps member because of his popularity. He was more popular in some federal constituencies than his colleagues who were representing the constituencies in the green chambers.
Despite failing in his attempt to become Governor in 2019, his name has continued to be mentioned when discussing the 2023 governorship seat. He has announced his official declaration for Sunday April 10 and his ambition is gathering momentum despite the agitation that the position be zoned to the South.
Maybe, younger upcoming politicians can understudy him to learn what has kept him relevant in the system for such a long time.
The third person on this thread is Hon. Asuquo Ekpenyong, Jr., the Honourable Commissioner for Finance. Seven years ago, not much was heard about this burgeoning leader. Although, his father, reputed to be one of the highest private employers of labour in the state, Ekpenyong Jr was nowhere in the state political space.
But ahead of 2023, just like Sen. Otu and Owan Enoh, Ekpenyong Jr's name has continued to be linked to the Governorship seat. Rumour mills even have it that he's one of the people the Governor is considering to support as his successor.
Some people will say it's because of his father's status as elders statesman, but is he the only son of a rich man in modern Cross River politics?
He was appointed as one of the youngest Commissioners in the Ayade's administration in the entire state and the youngest from South. There are many Commissioners from the South but if the Governor is considering him as his successsor and his name has constantly popped up when discussing 2023, then, maybe, there's something he has done or doing that has made him stand out.
Maybe, young leaders looking for opportunity to lead also need to understudy him to understand how to take advantage of opportunities to standout.
𝐍𝐎𝐓𝐄 : 𝐎𝐏𝐈𝐍𝐈𝐎𝐍𝐒 𝐄𝐗𝐏𝐑𝐄𝐒𝐒𝐄𝐃 𝐇𝐄𝐑𝐄 𝐀𝐑𝐄 𝐒𝐎𝐋𝐄𝐋𝐘 𝐓𝐇𝐎𝐒𝐄 𝐎𝐅 𝐓𝐇𝐄 𝐀𝐔𝐓𝐇𝐎𝐑
Inyali Peter writes from Abuja