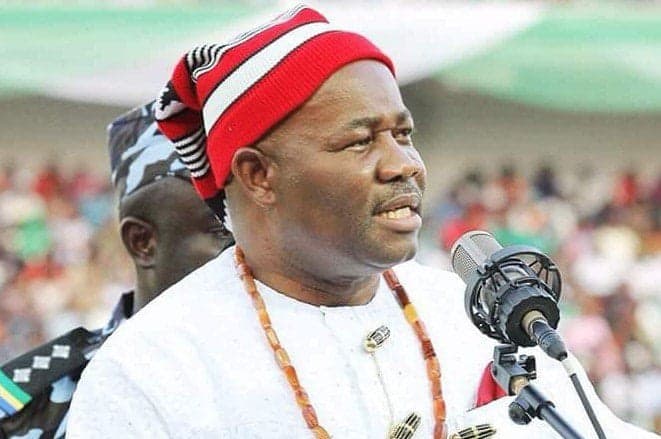 Reading Time:
2
minutes
The incumbent Minister of Niger Delta Affairs, Chief God'swill Obit Akpabio has outlined three things he will do if he is elected president of the Federal Republic of Nigeria in the 2023 forthcoming general elections NEGROIDHAVEN can report.
Akpabio, a former Akwa Ibom state governor has promised to unite Nigeria, create jobs, tackle insecurity and harness the huge population of the country to create jobs when he becomes president of the country.
Akpabio who was speaking to journalists on a TV Programme said he has experience in bringing "uncommon transformation" and he is ready and capable of bringing that to tackle the "three cardinal issues" that Nigeria currently faces.
His words: "When elected I will focus and provide solutions to the three major issues that seem to face us now. The first issue is the issue of insecurity, the second one is the issue of unity of the country and national integration with the various agitations for separatism, and the 3rd issue is the issue of the economy, making sure that we can have three square meals a day. That Nigerians are gainfully employed and the youth have something to do" He said.
Akpabio who recently declared for president under the All Progressive Congress, APC, in a packed stadium in Ikot Ekpene, Akwa Ibom State added that he will tackle corruption by eliminating poverty and the need for people to steal.
"I will continue to fight against corruption because if you allow it, corruption can kill us all. I'll continue the same way the president is doing. Corruption has a twin brother which is poverty. You cannot fight corruption without fighting hunger, so the social investment programmes by the current administration to assist the poorest of the poor in the country will be continued, so that we will be supporting the poor while we aggressively go after those who steal from our commonwealth." He said.
Akpabio added that he expects to lead a country united with no religious nor ethnic strides, as Nigerians should expect a country with "uncommon unity of the entire country where there is no difference between a Muslim and a Christian uncommon unity where they'll be no difference between people who speak different dialects or people who speak different languages there will be no ethnic divides we see each other as Nigerians and above all we have only one agenda in this country and that is Nigeria." He said.
The current Minister of Niger Delta Maintained that he will cultivate the human and capital potential of the country to drive growth and ensure maximum productivity, saying "I have done it before and I will do it again." He said.