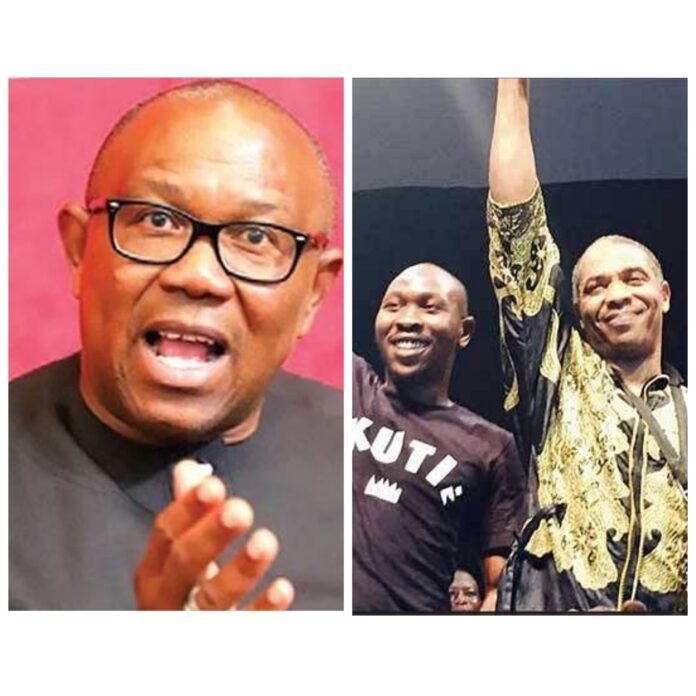 Reading Time:
2
minutes
Femi Kuti recently said that he can't be caught supporting Peter Obi. Seun Kuti also followed up by jibing at Obi. So who do the Kutis want to be their next President? Tinubu? Atiku?
Time unravels people. I thought they have always claimed to be the undisputed torchbearers of musical activism, that was handed over to them by the father.
Honestly, they sound like they've been paid by you know who, to carry out this subtle campaign against Peter Obi, who is by a thousand miles, the candidate to beat in next year's presidential election. I think they should focus on their musical careers which I must confess, has been nothing to write home about. They've been feasting off the fame and name of their Dad, Fela, almost similar to how Femi Fani-Kayode(FFK), has been gnawing off the glory of his Dad, Remi over the years. We can't gainsay the fact that quite a number of legendary hip-hop musicians have featured with Femi in the past. I can say that it is not necessarily because of his genius. I think it's for the same reason star musicians run to the Marleys(Bob Marley's kids) to make music. Can someone please mention one of Femi's hit compositions, that is up there with even the worst song Fela made? Is there any of Femi's songs that is as good as the average "Monday morning in Lagos"? I don't even have anything to write about Seun, who I think is more famous for mixing and smoking herbs than for making music.
Fela exposed Femi to the international scene. I remember watching a clip of Fela's 1985 Glastonbury performance several years ago- towards the end of it, he invited a very young Femi out, to come take the center stage for a couple of minutes and blow the sax. He also introduced him as his son and sounded like he was officially presenting him to the world. Femi then went ahead to blow some tepid, not very sharp notes albeit, to a rapturous applause from the ever lively Glastonbury crowd. Without a doubt, musically, the Kutis are a family to be reckoned with. I recently discovered that Fela's grandfather, the Reverend J.J. Kuti was the first Nigerian to ever record an album in the studio(he did so in England). He was a great composer. He's the one behind the popular Yoruba gospel tune – Isé Oluwa, ko lè bajé oh… His grandson, Fela was bestowed with a greater musical grace, or should I say, put to good use, the musical talent available in his genes. Femi & Seun seem to have failed in that regard. I hope Femi's son- Fela's grandson, Madé, doesn't disappoint.
Yours Obidiently,
Simon Utsu