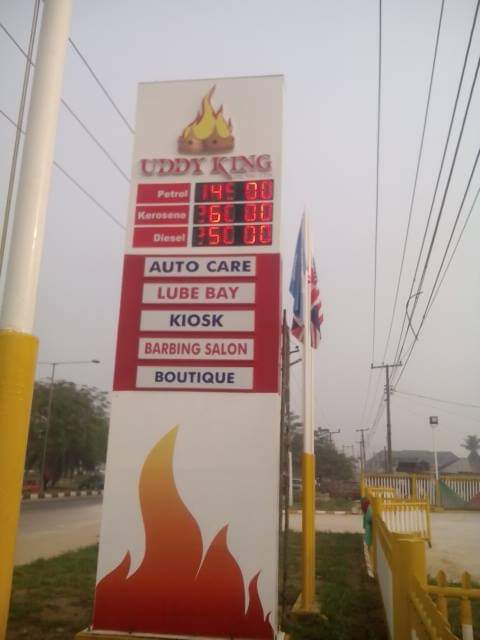 Reading Time:
2
minutes
An independent marketer of premium motor spirit, PMS has been accused of being predominantly responsible for the artificial hike in the prices of petroleum products in Cross River NEGROIDHAVEN can report.
Linus Obogo the Deputy Chief Press Secretary (DCPS) to Cross River state governor, Ben Ayade, has flayed independent marketer UddyKing Filling Station for being responsible for the artificial hike in the prices of PMS popularly known as fuel.
Obogo made this disclosure last week via his Facebook account when he explained that UddyKing Filling Station is now the price leader of the product. He explained that the independent marketer continually marks up the price of the product which compels others to follow.
His words, 'But seriously speaking. Udiking (sic) is now the price leader in petroleum product pricing. It determines the price and others follow. Sad!… A price leader is one who determines the price for others to follow. So far, it has consistently marked up the pump price of PMS in the state after which others follow in cue. At its various fuel stations, pump price hovers between N280 and N260, offering others like Eterna, Propel etc the latitude to hike theirs', he insisted.
In Cross River, beginning from the fourth quarter of 2022, there has been both the artificial scarcity of Premium Motor Spirit, PMS as well as a hike in the pricing despite availability of the product.
The hike in prices has been pegged by some to be arbitrary and not necessarily because of the unavailability of the product or increase in price by regulators generally across the country.
Road users get to find the product available with black marketer as filling stations are consistently and characteristically being under lock and keys refusing to sell to willing buyers even when the product is available.
However, in an interaction with an insider at UddyKing Filling Station who has pleaded anonymity, he disagreed with Obogo. He rather pegged the arbitrary hike in price to tank farm owners.
His words, 'If Northwest sells fuel pump price at N180/190 per litre, we buy from her depot at N240 per litre as of the last time she sold during Christmas. Dozzy will sell to us at 250 and sells pump price 180 brother who is fooling who here? NNPC doesn't have this product. Who are the price regulatory agencies… Let them control Depot price first and pump price will change too…in Port Harcourt fuel is sold at 500. In Aba 450. In Akwa ibom from 320 to 290. How many independent marketers are selling fuel in Calabar…? Simply because most of them can't afford the depot price.'
Last week the federal government denied hiking the price of PMS.
EDITORIAL
This story amongst others are reviewed on Sparkling 92.3FM http://mixlr.com/sparkling923fm–2 and FAD 93.1FM. Again, opinions expressed on NegroidHaven are exclusively the author's not NH's.