Reading Time:
2
minutes
Calabar– Despite the domestication of the Violence Against Persons (Prohibition) Act (VAPP) in Cross River State in 2021, the state has yet to establish a Sex Offenders Register, according to recent reports NEGROIDHAVEN has confirmed.
The VAPP Act, enacted at the federal level in Nigeria in 2015, is designed to protect the rights of women and girls by prohibiting various forms of violence, including sexual offenses.
This revelation came to light during a Thursday press briefing held in Calabar, the state capital, as part of the press conference on Cross River State VAPP Law Implementation, Safeguarding against Violence, Abuse and Exploitation of Girls and Women. The event was organized by the Youth Alive Foundation Abuja under the SAVE Project, sponsored by the Commonwealth and anchored by Girls Power Initiative (GPI) in the state.
Bassey Otop Esq., representing the Ministry of Justice in the state and BRCI addressed the issue during the briefing. He cited operational procedures as the reason for the delay in establishing the Sex Offenders Register. These procedures involve the training of staff at the State Ministry of Justice and the equipping of the office.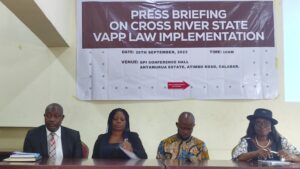 However, Ann A. Awah Esq. of the International Federation of Women Lawyers (FIDA) disagreed slightly with Otop. She clarified that the issue was not with the National Agency for the Prohibition of Trafficking in Persons (NAPTIP), as indicated by Otop, but rather with the Cross River State Ministry of Justice. According to her, the VAPP Act mandates NAPTIP to manage the Sex Offenders Register, but during the public hearing for the domestication of the act in the state, they recommended that it should be the responsibility of the Ministry of Justice in the state.
Awah explained, "The register should be domiciled with the Ministry of Justice because they are the ones prosecuting, the court is the one hearing the matter, they are with the correctional centers, they are the first people in contact with this information, so who will be responsible for making that report to NAPTIP?"
She further revealed that an advocacy visit had been made to the former Attorney General of the state, who promised to set up the office when sufficient funds became available.
In response to these challenges, Bassey called on the development community to support the state financially in the establishment of the Sex Offenders Register.
The establishment of the Sex Offenders Register is crucial for tracking and monitoring individuals convicted of sexual offenses, thus enhancing the safety and protection of vulnerable individuals, including women and girls, in Cross River State.