Reading Time:
2
minutes
Cross River state's Commissioner for Agriculture and Natural Resources, Ntufam Okon Owuna, has assured full support to the Bagadonase Nigeria Limited in ensuring that fish value is important in boosting agriculture and also making the value chain better for fish farmers NEGROIDHAVEN can say authoritatively.
The Commissioner made the statement at the "CROSS RIVER FOOD FAIR" organized by the Bagadonase Nigeria Limited in Collaboration with Partnership Initiatives in the Niger Delta (PIND) foundation with support from CLICE Foundation held at the Ministry's Produce hall, recently in Calabar.
The Commissioner represented by the Director of Agricultural Services Mr Gabriel Ufono said that Fish is one of the beneficial protein sources in our diet adding that the essential nutrients keeps the body lean and the muscle strong. He advised the farmers to leverage on the opportunity to business and also attract donors from outside.
In her welcome address the Chief Executive Officer Bagadonase Nigeria Limited Mrs Glory Adonase said the organization has been a service provider company which offers aquaculture services to farmers in the state since 2015.
He said its mission is to identify farmers in the State, know their challenges and present them to a bigger body like PIND which will proffer solutions to their challenges.
She told the farmers to make use of the best practices and also adopt new technologies in order to make their business flourish.
The Chief executive officer of CLICE Foundation and the Focal Person Partnership Initiatives in the Niger Delta (PIND) Miss Comfort Oyanga said that PIND has been in the Niger Delta for the past 10 years to ensure that there is inclusive economic growth for everyone in the different value chains (Aquaculture ,Cocoa, OILPALM, and Cassava).
Onyaga's words "Talking about inclusive economic growth, we are not just talking about fish farmers, we are talking about key players in the value chain because every farmer has a key actor in the different sections of the value chains. We are look forward to a situation where by the key actor are ready to to specialize in their sector and optimise production."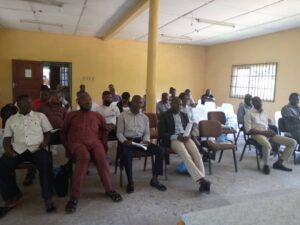 She said considering the down ward flow in the wild captured Fish result from Climate change, insecurity and several other factors it is the opportunity for the opportunity for the fish farmers to upscale their production in cat fish.
She mentioned that the objectives of the PIND Intervention is to breach the gap by identifying or working with the key sector players, service providers in each of the Niger Delta Region, provide technical support for them and also ensure that everyone in the value chain participate and benefit from the intervention.