Reading Time:
2
minutes
Effio-Ette Junction, Parliamentary, Parliamentary Extension communities in Calabar metropolis have all gone agog as Engr. Ben Akak the Chairman of the Ben Akak Foundation (BAF), Friday, distributed food item to residents and passers-by as a way of celebrating the new year NEGROIDHAVEN can report.
Beneficiaries of Akak's gesture, who are mostly women, youth and some men expressed gratitude to their benefactor. They rained encomium for the gifts collected.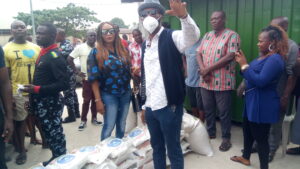 Incidentally, some of the beneficiaries whom our correspondent randomly interviewed disclosed that they do not know who gave the bags of rice.
A passer-by simply identified as Princess said, 'I saw they were distributing something so I went closer; definitely I don't know who distributing it… Anyways, I am very happy that I can go home with something. There is nothing as good as having a gift this period.'
Mr Kelly Edem on his part said 'I am very happy to see this kind of gesture today. If someone doesn't have the fear of God, he can't do this.' On his part Imo Friday Ekong said 'God will bless him, for him to call us to come and collect this token, we don't need much. This is how other people are supposed to do. Today is 1st January 2020, and see how it has started. I believe God is starting this way with us as well. From where he brought this out, God will replenish him.' A young lady simply identified as Ima-Obong said 'We are so excited, may God bless him (Engr Ben Akak).
BAF Visits to Orphanages in Calabar…
Sequel to the gesture at the Calabar Municipality communities, Chairman Akak and his wife, Joseline paid a visit to orphanages in Calabar especially Infant Jesus Orphanage Home located at 4 Bateba Street; Pope John Paul II Good Samaritan Home located at 74 Target Road and Motherless Home at Uwanse street where they presented, on behalf of the Ben Akak Foundation, cash and material gifts to the less privileged in society.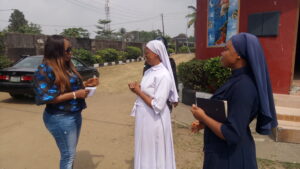 Presenting the gifts to the Reverend Sisters in charge of the various orphanages, Joseline said that they were there to remind the inmates that they were still in their minds: 'we will never stop coming', she told the sisters.