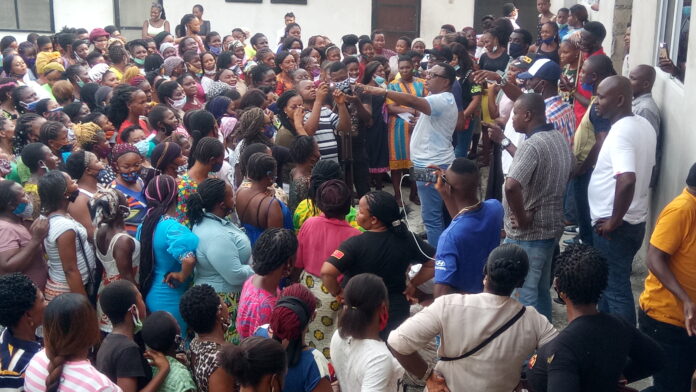 Reading Time:
2
minutes
Women in/of Calabar South LGA especially of Wards 2, 3, 4 and 5, Saturday, were appreciative of the benevolent gesture of Otu-Ekong Orok Duke a community leader in the area who celebrated residents of the area with gifts of staple crop NEGROIDHAVEN can say.
Speaking of the gesture, a cross section of the women who were glaringly appreciative of Duke's benevolence observed that should others emulate the former state lawmaker, life would have been more enjoyable. They asked God to bless Otu-Ekong Duke.
Mrs Nkoyo Ene-Obong a widow and former women leader of Ward Four said: 'I am very happy at what Chief Orok has done for us. Every year, he is wont to demonstrate this gesture. If every wealthy person who is in politics does like he do, life would have been more enjoyable. I thank God for him, I pray that God preserve his life and bless him with wisdom and long life.'
On her part, a lady who goes by the name, Esther Effiom, who suggested that the Covid-19 pandemic regulations had economic consequences on her, said 'I am very happy, at least, after the lock-down and everything that went with it, we've gotten something; I am very happy'.
Madam Nkese Otu Nsa said let this kind of love continue until subsequent years.
Our correspondent learnt from Orok Duke that this benevolence has historical antecedent: he explained that every 2nd of January of the year immediately after the Tinkoriko parade of 1st January, he gives gifts of staple crops to residents of the area including men, women and youth.
He said, 'This is something that has a historical perspective to us here because, it is something I used to do for the sixteen years when I represented this community.
'Tinkoriko started in 1993, a day after Tinkoriko we used to host the women. Because the younger ones used to participate in Tinkoriko like boys and girls, the elderly woman and almost everybody usually comes around a day after Tinkoriko.
'Now, it happens that a day after Tinkoriko, in deference to the Covid-19 protocol, Tinkoriko did not participate yesterday but, we are still keeping to this part of the promise and programme', Duke disclosed.