Reading Time:
2
minutes
On Tuesday, Modlin Odu, an aide to the lawmaker representing Cross River Central Senatorial District at the 9th National Assembly disclosed through social media that she cannot properly arrange firewoods for cooking NEGROIDHAVEN has garnered.
According to Ms Odu, it is a tedious and unnecessary task considering that there are alternatives. The millennial added that she does not like the smell of smoke at all.
Her words, 'I won't be ashamed to own up to the fact that I cannot properly arrange firewoods to make cooking fire. It is not an "ajebo" something (because I am not one), I just think it is tedious, very unnecessary especially when there are less stressful alternatives and it should be used only for large party meals like the pot of jollof rice, not that tiny pot of yam. I don't like the smell of smoke "kpata-kpata". But to my mummy, all these ones I am writing is ekélé (grammar), her husband is not complaining . Even with gas cylinder inside the kitchen, she believes outdoor firewood cooking is faster and fun particularly with these healthy looking woods we have at the backyard,' Odu said.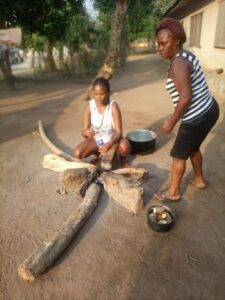 Odu's comment has generated much reaction as some have said she is lazy, others made the observation about how she would cope in her marital home, others have offered to teach her while others have said that is unbecoming of a native of Boki LGA. For instance, Wordu Richard said 'Not a wife material if you can not set common fire to cook. Indomie girl… This is a serious matter my dear. Most of the women that are sent packing in marriages is as a result of these nemesis you are giving a broad shoulder today. Please package yourself fine. My ten kobo advice ahead of time'; on her part, Margaret Okangbe said 'Boki girl wey no sabi use firewood cook. Abeg, park well make my friend wey be proper Boki women show you the skills. I love and prefer firewood, the meal taste better. Kudos to Mma Odu, my sister'; one Elvis Okpokam said 'you weren't born and brought up in the village na, how will you know how to set firewood'; Juliet Daniel Edeh disclosed 'You have never liked firewood right from time, no be today e start. It has tayyyyy'.
The Restauranteur of Queenieez Kitchen and Outdoor Services, Queensley Bassey, has offered to teach Odu how to use firewood for cooking.
EDITORIAL
Must a lady know how to cook with firewood? Is it a criterion for marriageability for an African woman?