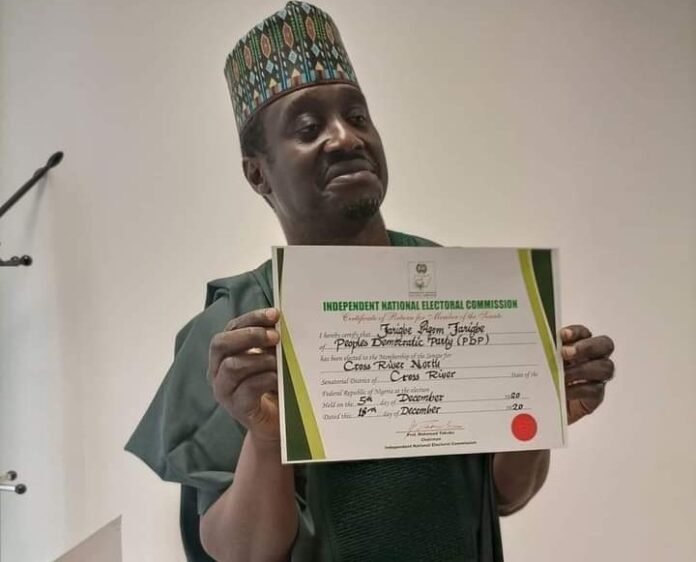 Reading Time:
2
minutes
Ikpen Ilefa a Nigerian netizen has given an insider account of how the justices of the Supreme Court of Nigeria, Thursday, proceeded with the case between Rt. Hon. Jarigbe Agom Jarigbe and Senator Stephen Odey Ph.D in respect of Odey's appeal.
Ilefa who was in the Supreme Court yesterday, being adorned in Agbada and the Owelle signature hat has this to say: 'When the Supreme Court Justices entered the court room some few minutes after 2pm, they immediately went into action after counsels announced their presence. The lead Judge announced that, their judgements were divided into two, that is Majority judgement and Minority judgement. The lead Judge further announced that, their final judgment will be based on majority judgement, hence there was a majority judgement and a minority judgement.
'The Crux of the judgement was hindged on NOTICE OF APPEAL, and Okorocha vs Ihedioha was cited as the basis for the majority judgement.
'At the end, it was four Supreme Court Justices against three. While the three minority judgement held that a notice of appeal served to the 1st respondent counsel was the same as serving the respondent, the four majority justices, thought it otherwise. Hence a lead judgement was given that didn't need any consequential order.
'For those of us who sat inside the court room and followed all arguments that preceded the judgement, you will agree with me that, the judgement of Appeal Court was upheld. The implication of the judgement of Appeal Court is that, INEC has already obeyed that judgement and will swing into immediate action after yesterday's judgement.
'As a matter of fact, when the last of the three minority justices was delivering his own judgement, he added that, we the audience should take their MINORITY JUDGEMENT for merely academic investigation and nothing more since it didn't matter in the case before them.
'It is saddening then, to see on Facebook a few, writing about CONSEQUENTIAL JUDGEMENT. Let us all embrace the spirit of sportmamship and congratulate our Senator in the person of Distinguished Senator Jarigbe Agom'.
Recall that why Stephen Odey went to the Supreme Court was 'because there was an order of the FCT High Court declaring Jarigbe Agom the PDP Candidate and in extension the winner of the by election. The Court of Appeal upheld this order and INEC had to issue Jarigbe a certificate of return…
The Supreme Court didn't have to make any consequential order. By dismissing the appeal of Stephen Odey, it means that the order of the Court of Appeal declaring Jarigbe senator elect, stands.'(In F. Baba Isa's words).
So, the apex court did not need to make a consequential order pronouncing that Odey is no longer the Senator or Jarigbe should be sworn. In effect, the apex court upheld Jarigbe Agom's preliminary objection on defective service, thereby affirming him the Senator for Cross River North Senatorial district.