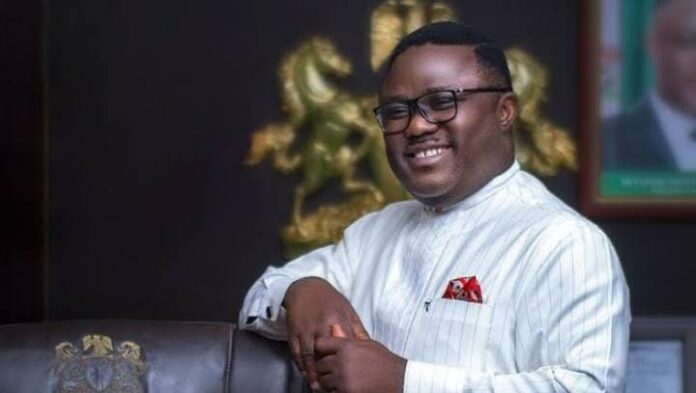 Reading Time:
4
minutes
By Ntem Chris
Under the Ayade Administration Cross River gets first College of Nursing Science in South South Nigeria. Graduates eligible for NYSC.
For the first time Schools of Nursing & Midwifery in the state gets full accreditation with an increase intake of students across all stations.
Free eye surgeries to over 8,000 beneficiaries across the State
Provision of a brand new Wellness-On-Wheels truck to tackle Tuberculosis in the State.
Approval of a 100% Consolidated Medical Salary Structure (CONMESS), for Doctors in the State. With the approval medical practitioners in the state will earn same salary structure with their peers at the Teaching Hospitals and other federal health facilities in the Country.
Procurement of Intensive Care Units (ICU) Beds for Hospitals across the State.
Provision of Digital incubators and phototherapy machines to General Hospitals in the State.
Renovation of several Primary Health Centres in the state and the provision of medical supplies with a vision to achieve Universal Health Coverage.
Introduction of the Cross River Health Insurance Scheme; the scheme provides quality and affordable healthcare to residents of the state. Minors from ages 0-5, the aged people, destitutes, pregnant women and the incapacitated persons gets enrolled and treated for free, while other categories of persons pay a paltry 1,000 Naira per month to enjoy full service.
Signing on with Zipline Technology; a drone delivery system for the prompt delivery of blood and other essential medical supplies to the hard-to-reach areas on demand. The drones have capacity to deliver commodities in 30 minutes. The technology has been replicated in Rwanda & Ghana.
Construction of the Cross River Pharmaceutical Company (Calapharm) for the Production of drugs & other medical supplies (near completion).
Establishment of a 120-bed Referral Hospital in Akpabuyo to serve the Southern Senatorial District (currently ongoing).
Establishment of an ultra-modern Referral Hospital, Obudu to serve the Northern Senatorial District (currently ongoing).
Establishment of a 120-bed Referral Hospital in Etung to serve the Central Senatorial District (feasibility studies completed, project ongoing).
Renovation and overhauling of the General Hospital Calabar with modern healthcare amenities. This was re-opened by the Minister of Health for States in 2020.
Renovation and equipping of General Hospitals across the State.
Creation of Isolation and Treatment Centers across Institutions of learning in Cross River.
CRS was the first to initiate compulsory use of facemasks which became a global trend. Produced over 2 million cloth mask, thousands of hand sanitizers to health facilities, MDAs, schools, hospitals, communities etc. with the Cross River Garment Factory producing millions of facemasks to other States at the heat of the coronavirus pandemic.
CRS rated best in COVID-19 Vaccination as 117% coverage achieved.
CRS rated best Emergency Operation Center (EOC) in Nigeria by NCDC.
Free medical care, cash/material donations to malnourished children, widows and the aged women.
Best performing state in Nigeria on Tuberculosis (TB) response in 2020.
Supply of health equipments to health facilities and Personal Protective Equipments (PPEs) to health workers across the state.
Provision/Commissioning of portable drinking water to selected PHCs in partnership with Akwa-Cross USA.
Routine sorting out of medical bills of poor mothers, less privileged persons, the aged people across the state.
Free medical outreaches across the State with minor surgeries undertaken.
Re-building and equipping (to modern standard) of Cool-Room Store to house vaccine and equipping of a COVID-19 Molecular Laboratory after the #EndSars vandalization.
Stationing of Isolation Centers in Institutions, Hospitals, and Prisons in the state.
Training of principals and head teachers on COVID19 protocols and support to schools with COVID-19 items upon resumption.
Commissioning and equipping of the Health Situation Rooms (HSR) for HIV/AIDS Responses in the State.
Support to over 6,300 Refugees with essential Medical supplies, relief materials and other support items.
Signing of the biggest Pharma Transformation project in history of the Health Sector in line with SDG's goal #3.
Sanitization of the health system by shutting down of over 30 quacks and illegal hospitals/clinics and clamping down on fake/adulterated producers of consumables in the state.
Rescue of over 100 Malnourished Children across the State with proper medical attention and other forms of support.
Donation of over 50,000 antimalarial drugs to Health Facilities and Hospitals across the State.
Standard Renovation and equipping of School of Midwifery Calabar.
Purchase of Digital Incubators and Phototherapy machines across General Hospitals in the State and purchase of specialized Ventilators for the fight against Covid-19 in the state.
Fumigation of Schools in the state as part of Covid-19 Taskforce Responses.
Ayade Free Eye services with minor surgeries and donation of correctional lenses across the state.
Support to Airports and other Border Communities/stations to strengthen the fight against Covid-19 in the State.
Donation of Relief Materials to Communities during the 2nd Round of Maternal Newborn and Child Health Week across the state.
Building of an ultra-modern Diabetic Center in Ogoja (currently ongoing).
Donation of Computer sets to the Calabar Cancer Registry to boost research. Free Cancer Screening and treatment across the State.
CRS gets Biggest Database in Nigeria housed in the state Ministry of Health headquarters.
Commissioning of the Nursing and Midwifery Council of Nigeria Zonal Office Calabar.
CRS set to House the First Fistula Center in South South Nigeria.
Distribution of Electronic Centrifuge and Generator sets to Primary Health Centres in the state.
Introduction of IPV2 in the State with over 90,000 Children and 30,000 pregnant women already benefiting.
Due to diligent health policies, CRS amongst 3 States to benefit from the Global Fund Resilient and Sustainable Systems for Health grant.
Support to CRS Family Planning Unit with Consumables distributed across Primary Health Centres in the state.
Several others not included. I will update in the next episode.
…under Governor Ben Ayade, Cross River has witnessed a health revolution never attained in the history of the state.