Reading Time:
2
minutes
New York City – Dr. Betta Edu, Nigeria's Honourable Minister of Humanitarian Affairs and Poverty Alleviation, continues to make significant strides on the global stage during the 78th session of the United Nations General Assembly (UNGA 78). On the third day of this historic event, she joined President Bola Ahmed Tinubu and other members of the Nigerian delegation in a series of high-level engagements and discussions NEGROIDHAVEN has garnered.
Closing the US NASDAQ: President Bola Ahmed Tinubu made history as one of the African President to close the world's stock capital market of the US National Association of Securities Dealers Automatic Quotation System (NASDAQ) on Wednesday in New York. Dr. Betta Edu was among the esteemed Nigerian delegation accompanying President Tinubu to this momentous event, which further highlights Nigeria's significance on the global stage.
Nigeria-U.S. Executive Business Roundtable: Dr. Edu participated in the Nigeria-U.S. Executive Business Roundtable, where President Tinubu addressed prospective investors. The President expressed the global investment community's confidence in Nigeria, particularly given the favorable fiscal, monetary, regulatory, and tax policy environment. Dr. Edu took this opportunity to present her ministry's pitch deck to private sector stakeholders, showcasing opportunities for collaboration and investment in humanitarian and poverty alleviation efforts.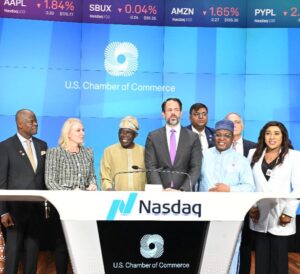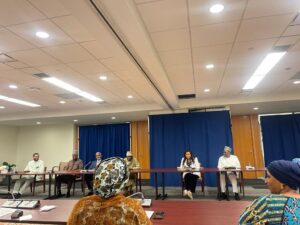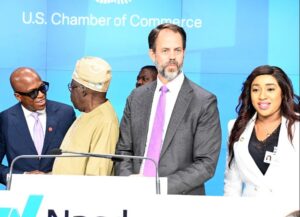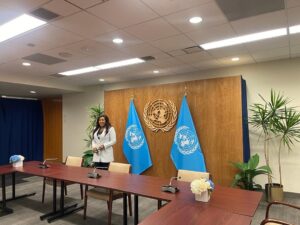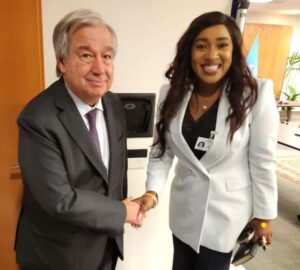 Engagement with the World Economic Forum (WEF): As a keynote speaker, Edu engaged with the World Economic Forum (WEF). Her participation focused on shaping global, regional, and industry agendas related to sustainable development goals and advancing refugee employment on a global scale. This engagement reflects Nigeria's commitment to contributing meaningfully to global discussions on critical issues.
Meeting with UN Leadership: Dr. Betta Edu was part of President Tinubu's high-powered delegation that met with United Nations Secretary-General António Guterres and Deputy Secretary-General Amina Mohammed at the UN Headquarters Office in New York City. During this meeting, President Tinubu presented a clear vision for the expected role of the UN in Nigeria and Africa. The presentation included the unveiling of the Humanitarian Affairs and Poverty Alleviation Ministry's Action Plan (2023-2030), underscoring Nigeria's determination to tackle critical challenges.
Engaging with UNFPA: Edu held a strategic meeting with the United Nations Population Fund (UNFPA) Assistant Secretary-General and Deputy Executive Director. The discussions centered on addressing livelihoods, gender empowerment and equality, and the imperative of leaving no one behind in the transformative goals of Nigeria's Renewed Hope Agenda. Dr. Edu explored opportunities for a larger-scale partnership with UNFPA to advance these critical objectives in Nigeria.
Dr. Edu's active participation and engagements at UNGA 78 highlight Nigeria's commitment to global issues, including sustainable development, humanitarian response, and poverty alleviation. Her role as a key representative of Nigeria demonstrates the nation's dedication to forging international partnerships for the greater good.