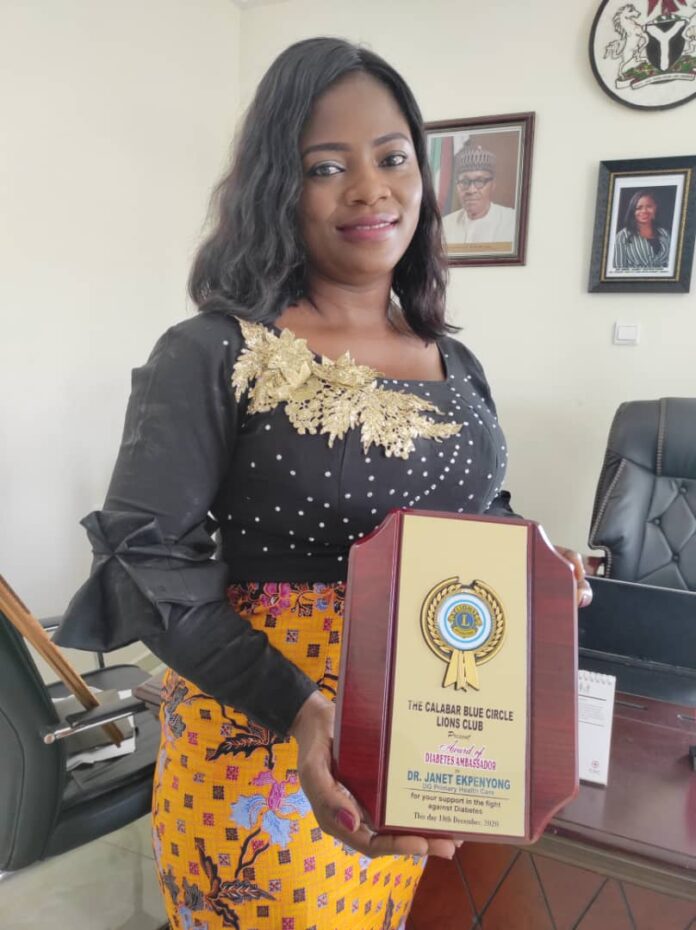 Reading Time:
2
minutes
The Calabar Blue cycle Lions club has presented an award of honour to the Director General of the Cross River State Primary Healthcare Development Agency, Dr Janet Ekpenyong as a worthy Diabetes Ambassador over her role in the fight against the dreaded disease.
Presenting the award during the Club's Installation Ceremony held in Calabar the Cross River State Capital, the newly installed President of the Calabar Blue Lion's Club, Comrade Bernard Enya described Dr Janet Ekpenyong as a Frontline fighter whose support to the Calabar Diabetes Community has helped raised awareness and offer solutions to those who are suffering various stages of Diabetes mellitus in Cross River State.
In her acceptance speech, the Director General of the Cross River State Primary Healthcare Development Agency, Dr Janet Ekpenyong thanked the club for finding her worthy of recognition as she promised to intensify efforts in raising awareness and raising supports for patients in order to improve their living conditions and prolong their lives.
She further tasked Cross Riverians to avail themselves the opportunity for a regular blood and sugar level check so as not to get overwhelmed by the disease.
Diabetes mellitus is a disease that prevents the human body from properly utilizing energy from the food thereby causing body systems and organs from functioning properly .Diabetes mellitus is one of the world leading causes of death with over 400 million people worldwide suffering from either type 1 or type 2 diabetes.
Diabetes occur in two stages :(Type 1) diabetes occurs because the insulin-producing cells of the pancreas (beta cells) are damaged which makes little or no insulin, so sugar can't get into the body's cells for use as energy while in Type 2 diabetes (adult onset diabetes), the pancreas makes insulin, but it either doesn't produce enough, or the insulin doesn't work properly.
It's common symptoms include
Increased thirst.
Increased hunger (especially after eating).
Dry mouth.
Frequent urination.
Unexplained weight loss (even though you are eating and feel hungry).
Weak, tired feeling.
Blurred vision.
Numbness or tingling in the hands or feet.
Slow-healing sores or cuts.
Dry and itchy skin.
Frequent yeast infections or urinary tract infections.
The Calabar Blue Lions Club is one of the leading Non profitable and non governmental organization who are poised to reduce the death rate as a result of Diabetes and it's complications.