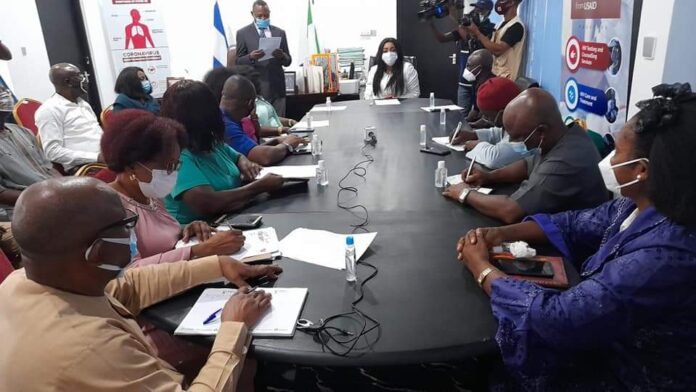 Reading Time:
2
minutes
The Cross River State Government has perfected plans to set up a COVID-19 quick response team in the University of Calabar (UNICAL) as students and lecturers resume for full academic activities.
This followed calls by the Vice-Chancellor of the University of Calabar, Prof. Florence Obi on the state government to deploy a quick response team to offer medical advice, get feedback and monitor compliance with COVID-19 safety protocols in the institution as the institution resumes.
Obi, who made the call when she visited the Commissioner for Health, Dr. Beta Edu, yesterday, said the need to take pragmatic steps towards preventing the outbreak of the pandemic in the institution was due to a large number of students the institution would have to contend with.
While calling for a more robust partnership with the State Ministry of Health, she said the deployment of a quick response team to the institution would help complement the institution's ongoing efforts at tackling the pandemic.
She also said the institution was currently grappling with the challenge of managing over 45,000 students hence the need to deploy a team to enable them to assess the level of compliance, offer medical advice and provide feedback to the Commissioner on areas of interest in the institution.
Edu, who commended the Vice-Chancellor for the move, described her as a woman of capacity and assured that the state government will deploy a quick COVID-19 response team to the institution.
She said the Ministry of Health would also embark on training of some UNICAL staff on sample collection and testing, stressing that awareness and sensitization campaigns would be taken to hostels to educate students on the need to observe the COVID-19 protocols.
University of Calabar commences virtual lectures
Meanwhile, the Centre for General Studies in the University of Calabar has commenced virtual lectures with introduction to Computer 1.
Today's lecture was citizenship education. Students who missed the online classes can also watch on the YouTube channel attached here-in.
Director of GSS, Prof. Francisca Bassey, who is the first female Director of the Center since its inception has upgraded the standard of the Centre within the short period she resumed office. The Centre has been re-designed and branded in-line with the vision of the first female Vice Chancellor, Professor Florence Banku Obi to bring the University of Calabar to be at par with high ranking Universities in the county, preparing grounds for global competition.
Many other innovations are in top gear; one of which is the introduction of the CBT mode of examination to the center, which she is assiduously working towards accomplishing.