Reading Time:
2
minutes
Youth of Ekorinim community in Calabar the Cross River state capital has called on the Commissioner of Police, Cross River Command; Assistant Inspector General (AIG) of Police, Zone Six Command; Inspector General of Police, and the Governor of Cross River have been asked to intervene in an incident of Police brutality, intimidation, victimisation, false accusation and alleged land grabbing inspired by a private citizen, namely, Chief Ita Nyong Asuquo NEGROIDHAVEN can say authoritatively.
This development was disclosed by a cross section of the Youth Council in Ekorinim early this week (Sunday morning) in a press briefing with journalists in Calabar.
According to Okon Edet Nyong of the embattled Ekorinim community, 'What actually happened is something that has been going on in our community by one Mr Ita Nyong Asuquo terrorising the whole community using the Nigerian Police Force. We have series of matters in court, in police station… He knows how to pay Nigerian Police to victimise the whole community.
'Why is he doing that? It is because he is selling community land. And after selling community land, he is on top of money and he believes he can pay Nigerian Police Force to jail the council members, the entire community.
'The matter has been going on from 2013 up to this day. But, the one that really marvelled us is the one that happened yesterday. There's one developer that opened a foundation in our community. And we have what we call traditional rights, we have what we call development fee. We as the youth council mandated by the town council we move around to see how we can get our right. When we got to one site in our community, the developer was not around, so we dropped a message. On our way going back, Ita Nyong came out with Nigerian Police Force with AK-47, two armed men, and blocked our road asking us to go back. We now asked him where should we go to… That we are going to back to our houses, he now ordered the police to shoot at us, kill us alleging we are kidnappers, armed robbers; to our greatest surprise, one of the MOPOL officers shot at the Assistant Youth Leader. Both of us where in front. Tension was high.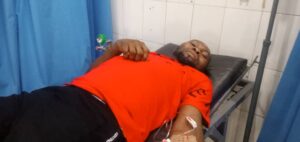 'On this note, I don't know if the Nigerian Police Force is hunter, and the citizens are bush meats? On this medium I will beckon on the Commissioner of Police, AIG, IG to step into this matter and give us justice.'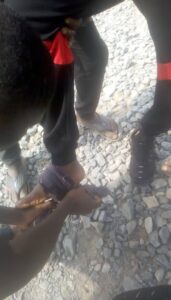 On his part, one Dr Eyo who represented the Ekorinim Town Council, confirmed to the press that Ita Nyong has variously used the police as an instrument of brutality. While accusing Ita Nyong of fraud, deception, he informed that they are resorting to a civil way of addressing issues because they do not want to encourage mayhem, injustice. His words, 'This brutality must stop, this injustice must stop, what we are looking for is justice, we don't want to encourage mayhem, we don't want to encourage brutality. The case of EndSARS is still fresh in our memory. I'm married from a police family… How was he eligible to be attached to two MOPOL officers'.
In a phone interraction with our correspondent, the accused, Ita Nyong Asuquo, who said he was in detention, assured NEGROIDHAVEN in the following words: 'I'll get back to you, I'll get you the information needed… About what happened, they attacked my hotel.'