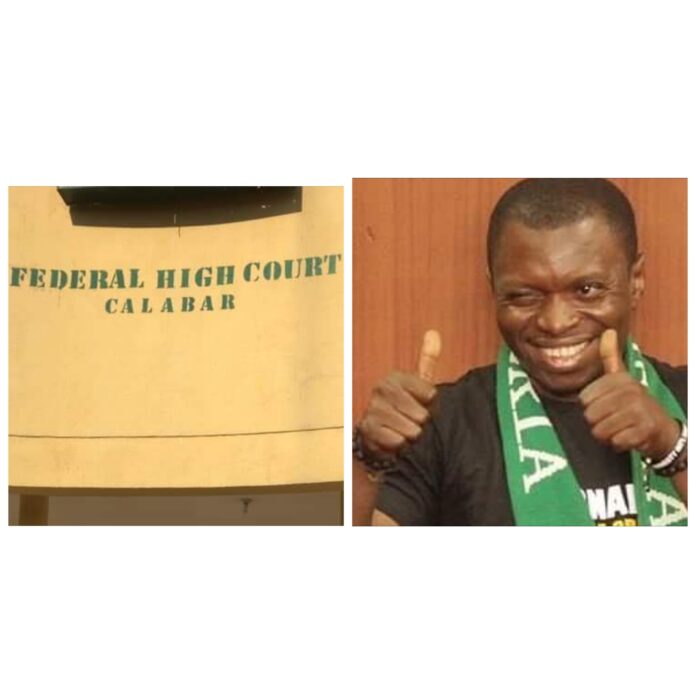 Reading Time:
2
minutes
Some Nigerians residents in and indigenous to Cross River especially the embattled journalist charged with terrorism, cybercrime and related offenses, Agba Jalingo, have been seen to be trolling a Nigerian federal judge, His Lordship Simon Amobeda, that has just been transferred to the Maiduguri division from Calabar division of the federal high court NEGROIDHAVEN can report authoritatively.
The trial judge was reputed for admitting masked witnesses in the case of Agba Jalingo Vs Federal Government where terrorism and related charges were preferred against the former.
His Lordship Amobeda is currently being taunted for obvious reasons by Nigerian netizens. According to Jalingo, '…Maidugri is really in dire need of judges that can admit egungun witnesses in court because of terrorists. Not Calabar.'
For Ud Ofem it is, 'They slammed an innocent man with terrorism charges in Calabar, now he has been sent to go and face real terrorists in Maiduguri, Justice Simon Amobeda you are good with such cases, go and excel, farewell. A sure example of good riddance to bad rubbish. All the conspirators and accusers will be taken out one by one. Ps. 17:13 captures it correctly, "May my accusers perish in shame; may those who want to harm me be covered with scorn and disgrace…." Elijah Ugani said '…Is God not God enough? A man who brags of sending Agba Jalingo, a law abiding citizen to prison, he refused him bail on several occasions on charges bordering on terrorism. Since he enjoys trying terrorism cases, God in his infinite wisdom, magnanimity and benevolence, has granted him his heart desires to be transferred from Calabar to only but a state where terrorism is at peak.Maidugri is really in dire need of judges that can admit masked witnesses in court because of dare devil terrorists. Not Calabar.
Fare there well.' Akwaji DonHenry Omang opined, 'So, who will be giving those fraudulent orders at the becks of the government of state? I trust, they will procure another.' For Moses Attah it is 'This is a polite way to voluntarily retire from service because how will he manage Maiduguri court loaded with bandits , terrorism and Boko Haram case's. Agba Jalingo ,he has been taking to where genuine terrorist are to judge them'. Nandi Bette II observed 'Chai, to Maiduguri……. The beat goes on. He will have plenty masked witnesses in the land of Boko!' Undiandeye Adie said 'At the end of the day; God is judge.' For Joy Swart it is 'Long overdue, Ayade's judge!!! Make him go face sambisa people'. Aninege Jimmie it is 'Ayade will weep! His hatchet man', and for Oko Maurice he noted 'Good for him, enough of the nonsense. I wonder what would happen to Ayade?'
Meanwhile, two female Federal Judges have been transferred to the Calabar division of the Federal High Court. They are Justice Ijeoma Ojukwu and Justice Rosemary Dugbo who are replacing Their Lordships, Justices Sule Shuaibu and Simon Amobeda (sent to Benin and Maiduguri respectively). They are assigned to Courts 1 and 2 respectively in the Calabar division of the Federal High Court.