Reading Time:
6
minutes
By Kelvin Obambon
In a bid to improve food security and the quality of food consume by citizens, the Global Alliance for Improved Nutrition (GAIN) in collaboration with HarvestPlus, have launched the commercialization of bio fortified crops project in Cross River State.
The launch which took place at the Transcorp Hotels, Calabar, on Tuesday, was attended by stakeholders drawn from government, the academia, agro cooperative societies and the media.
In his address the state Commissioner for Agriculture, Ntufam Okon Owuna, said to ensure food security everyone must work together, and that livelihood and food sufficiency should be compatible in a way that achieving food security would not be at the expense of livelihood and the health of those who produce the food.
The Commissioner who was represented by Mr Gabriel Ofon, a director in the ministry, explained that "To realize food security we need entanglement of livelihood and food sufficiency in a compatible marriage. This marriage is one that will result in sufficient produce that leads to nutritious balance diet and give us an output of food security. In essence, they are components and segments of one another. You cannot create food security without a livelihood. And in creating livelihood you will be able to attain food security.
"The challenge here is for us to see how we can balance these actions in these segments. We'll like to create food security, to create a buffer for what to supply for us today and to consider in terms of emergencies, pestilence… To consider the growing population that would need output in a sustainable manner."
He said the Prof. Ben Ayade-led administration has always accorded priority to food security, without ignoring the need for the production of nutritious food for the citizens.
Owuna said "The Cross River State Government led by His Excellency Sen. (Prof.) Ben Ayade had told us during his first tenure that no child in Cross River will go to bed hungry. It is his desire and policy of the state to make sure that we do not only produce enough food, but ensure that the food is nutritious and provide the balance diet required for a healthy living. A society that has food security, a society that creates livelihood is evident in the healthy life of the people. And for us in Cross River State we are committed to this responsibility of ensuring a tripartite arrangement of the livelihood of the people in an action track, ensuring nutritious food, ensuring healthy life of the people involve in these processes.
"More often we talk of food security, nutritious food, the action tracks involve. More often we look at only one aspect – the producers which are the farmers. Like I said from the beginning, it is a clearer call for all the stakeholders to be involve in this process. It transits the producers which are the farmers, the processors, the marketers, the tertiary level of the finished processing of the product that place this nutritious food on our table. So the intention is to ensure that all the components are brought together as a team to ensure that we deliver on the expectation and challenges of our needs. This has become very important as it is reflected in the state committee on food and nutrition, because the component members of that committee represent all the segments and sectors involve in driving these processes."
In her remarks, the Commissioner for Commerce and Industries, Barr. Rosemary Archibong, thanked GAIN and HarvestPlus for tirelessly driving the message of nutritious staples in the state.
She expressed happiness that the launch will placed Cross River in an advantage position because according to her, the actors in that field have shown commitment, capacity and drive.
"Beginning from my governor, His Excellency, Sen. (Prof.) Ben Ayade, his dream for Cross River State is industrialization, and you cannot industrialized when the people are unhealthy. We all know that we are what we eat. He wants to produce a crop of citizens that will engage themselves in the vast opportunities available in Cross River State… Energized farmers, businessmen, entrepreneurs. And that's why whenever there is this programme, I create time to be here. We are to be involved even at the starting point. We are the traders, we are the farmers. We got to be involve so that we know what we are putting across in the market place. From this, I can see that we are ready.", she said.
The Commissioner noted that the high cost of garri in the state was due to insufficient number of cassava processing plants and that many of the farmers are still operating at the subsistent level. She lamented the adverse effects of poor quality garri on the health of Cross Riverians, adding that as a result of this, the state was ready to receive vitamin A fortified cassava introduced by GAIN and Harvest Plus.
Barr. Archibong emphasized that in the strive to industrialized Cross River, "governor Ben Ayade does not compromise nutrition. The Rice Seed and Seedlings Factory is meant to produce highly vitaminized rice seedlings that will get to the consumers in the right nutritious state.
"We have gone past the season of eating poultry products that have been highly compromised with inorganic feeds. That's why this government has set up the Feed Factory. We are also encouraging people to go into yellow maize farming."
On his part, the state Economic Adviser and Vice Chairman of the state Planning Commission, Dr Francis Ntamu, in his address, recalled that one month ago, the Government and people of Cross River State hosted the South-South region of Nigeria for exploratory dialogue on national food systems as part of global efforts to address the observed fragilities and inequalities in food systems as exposed by the COVID-19 Pandemic. He said far-reaching resolutions were made among which was the need for nutrition education, government's encouragement of bio-fortification of food, the need to capture the agriculture informal players in the value chain and many others.
Ntamu who was represented by Mr Joseph Agim, Director of Research and Planning in the Commission, said it was reassuring to note that as part of efforts to demonstrate commitment to implementation of the resolutions and the National Policy on food and nutrition, the State government, through the State Committee on Food and Nutrition in partnership with Global Alliance for Improved Nutrition (GAIN) and HarvestPius Nigeria, launched the commercializaton of Bio fortified Crops Project, beginning with introduction of provitamin A cassava to relevant stakeholder farmers in the State.
"This, unarguably aligns with the State strategic direction and the market centricity of His Excellency's Administration as envisioned in the setting up of the respective value chain supportive special purpose vehicles aimed at improving livelihood opportunities and household food security in the State. It is hoped that introducing the Private sector resources and/or expertise in the management and operation of such businesses will help deliver desired policy outcomes and guarantee sustainability of investment as government alone cannot achieve this.
"The Project about to be launched today is therefore, not only timely, but commendable as this will also provide more opportunities for private sector participation and investment in the implementation of the National food Policy in the State.", he added.
Meanwhile, the Country Director of GAIN, Dr Michael Ojo, who was represented by an official in the organization, said that the Global Alliance for Improved Nutrition is an independent non-profit foundation based in Geneva, Switzerland.
He said GAIN is driven by the vision of a world without malnutrition, and that to achieve its goal, GAIN mobilises public-private partnerships and provides financial and technical support to deliver nutritious foods to those people most at risk of malnutrition, which is an example of multistakeholder governance.
Dr Ojo further stated that GAIN currently employs over 120 professionals in Africa, Asia, Europe and North America, who work on various projects in more than 30 countries, adding that its work covers large scale food fortification; maternal, infant and young child nutrition; agriculture and nutrition; business partnerships and alliances; monitoring learning and research.
Also, Mr Sunday Omori from HarvestPlus Nigeria, said the organization improves nutrition and public health in Nigeria by promoting cassava and maize that provides more vitamin A in the diet.
"We work with over 60 partners drawn from government, business, and civil society.
"HarvestPlus supports the National Root Crops Research Institute (NRCRI) to breed, test, and release vitamin A cassava developed through our partnership with the International Institute of Tropical Agriculture (IITA). Cassava is one of the most widely consumed food staples in Nigeria.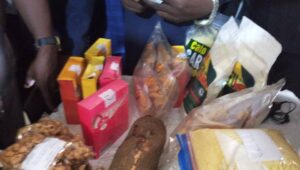 "We work with public and private sector partners to multiply vitamin A cassava stems and distribute to farmers. Our network of extension agents and rural facilitators receive training in best agronomic practices, which they pass along to farmers at the household level.
"Creative public awareness campaigns leverage the power of mass media, including of Nollywood, in educating Nigerians on micronutrient deficiencies and the benefits of vitamin A cassava.
"We are also creating and strengthening demand by supporting commercial processing of vitamin A cassava into popularly consumed products such as gari and fufu that are marketed nationwide. Innovative strategies to promote adoption and consumption include model one-stop shops where consumers can buy vitamin A cassava stems, tubers, and ready-to-eat products such as pies, cakes, and fufu.
"Our advocacy seeks to strengthen national ownership of biofortification through effective integration into national nutrition and agricultural policies.", he explained.
There were goodwill messages and contributions from the Senior Special Assistant to the governor on Research and Strategy, Mr Eval Asikong; Dr Roy Ndoma-Egba, who is a consultant on the project; Chairman, Cassava Growers Association, Venerable Augustine Oqua; representatives of the Commissioner for Health, Dr Betta Edu; Statistician General of the state, Mr Joseph Ogar; Chairperson, Nutrition Society of Nigeria, Prof. (Mrs) Margaret Agiang, among others.
Highpoints of the event were the official launch of bio fortified crops project by the Commissioner for Commerce and Industries, Barr. Rosemary Archibong and the showcasing of products made from bio fortified crops.