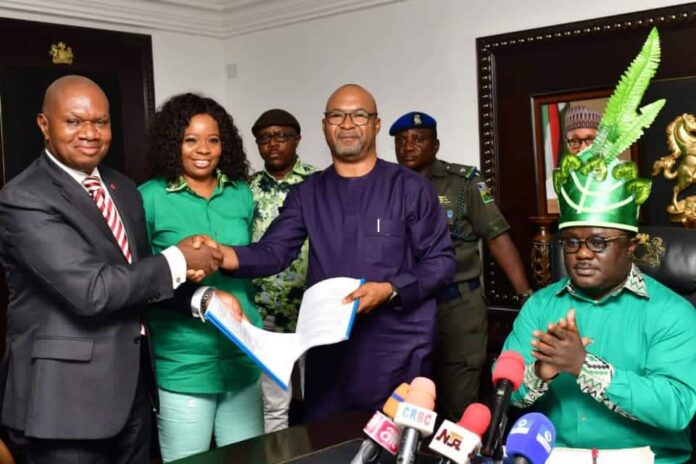 Reading Time:
2
minutes
The Cross River State Commissioner for International Development Corporation, Dr. Inyang Asibong, has lauded Governor Ben Ayade's industrialisation blitz, saying his strides could only be accomplished by a genius NEGROIDHAVEN can report.
The Commissioner also commended the United Nations (UN) for declaring the state governor champion of industrialisation in Nigeria.
Dr. Asibong was speaking Tuesday during the signing of the Trust Fund Agreement between Cross River State government and the United Nations Industrial Development Organisation (UNIDO) for the Cross River State Industrial Policy plan towards the implementation of the $1.5 million Integrated Agro-Industrialization.
She disclosed that the state government worked in concert with UNIDO to produced two reports for the industrial policy of the state.
"Your Excellency, the GAP analysis was done in collaboration with the Cross River State Government and UNIDO. There are some recommendations which had been carried out before this meeting.
"We are aware that the pharmaceutical company is about 95% completed with new sets of equipment ready for installation.
"The signing of the Trust Fund agreement is for the implementation of the Integrated Agro-Industrial Plan which is a $1.5million activity. We will be having one RTAC in each of the three Senatorial Districts of the state. After that has been done, we will have the mega Agro-Industrial Park to be set up", the Commissioner stated.
On his part, UNIDO country representative, Mr Jean Bakole said he was impressed by Governor Ayade's agro-industrial revolution, proclaiming him "the champion of industrialisation in Nigeria"
"Today is a historical day for UNIDO on the industrialisation of the country. For the first time since we have been around the country, we are signing a trust fund agreement with a state in Nigeria.
"We cannot emphasise enough the great industrialisation works of Governor Ben Ayade. We call him a captain of industrialisation in the country. I, on behalf of the UNIDO team in Nigeria hereby proclaim you the "Champion of industrialisation in Nigeria", the UNIDO boss said.
Responding, a delighted Governor Ayade thanked UNIDO for identifying with Cross River State and moving on to sign an agreement with the state to support the Agro-Industrialisation policy of his administration.
He intimated the UNIDO delegation that two reports on the industrial policy plan had been prepared, including the GAP analysis submitted for the Cross River Pharmaceutical Company as master plan on the industrialisation of Cross River State, specifically from the agro-allied perspective.
"With this analysis fulfilling all the recommendations of the GAP analysis, the Cross River Pharmaceutical Company which is indeed the only one in the South of Nigeria will be producing drugs to deal with issues fundamental to public health; issues like hunger, poverty, malaria, yellow fever and all those public diseases that have always made us run out seeking for drugs". Governor Ayade said.