Reading Time:
2
minutes
Concerned about the spate of violence and social ills mostly perpetuated by youths, the Christ Universal Youth Fellowship of the Brotherhood of the Cross and Star has commenced a programme geared towards saying 'NO' to all forms of violence and societal ills and 'YES' to love and peace.
Speaking during the unveiling of the programme, the Commissioner for Sports and Cinematography, Chief Offu Aya lauded the youth wing of the church for standing up to raise a campaign against rape, cultism, kidnap and other social vices, adding that to thinker on the ills of the society and propose solutions through actions is a true reflection of patriotism that is worthy of commendations. He described youths as the powerhouse of every nation and the core of every Government, an understanding of which he said has made His Excellency, Governor Ben Ayade unrelenting about youth development and youth inclusiveness in governance.
While charging them to continue preaching peace and love which he described as the basis of brotherhood and of all good things, Chief Aya pledged the readiness of the Ministry to work harmoniously with them and every other interested youth bodies to ensure that these social vices are eradicated for the State to retain her peacefulness with which it is known for.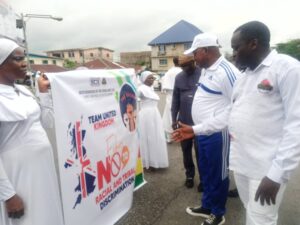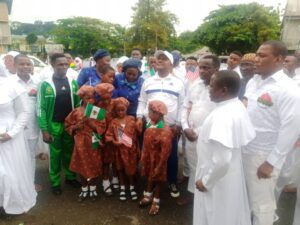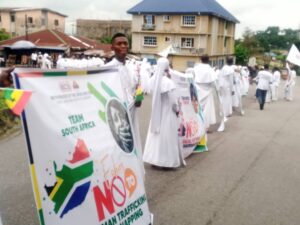 Also speaking, the Commissioner for Youth Development and Skills Acquisition, Hon. Signor Omang Idiege, represented by the Director Administration of the Ministry, Chief (Barr.) Egbala Edom stated that the ideals of the programme is for societal development as the youths have identified societal ills and making efforts towards its eradication. He commended the Brotherhood youths for the lofty idea and charged them to spread the 'NO' against every form of social vices across every book and cranny of the State preaching peace and love as well as spreading the word of God which is the foundation of every good works.
Earlier, the Cross River State Commissioner for Girls Guide, Princess Rachel Ekanem inferred that one of the cardinals of the Girls' Guide is positive character molding and that is what the Christ Universal Youth Fellowship of Brotherhood of the Cross and Star is advocating for, noting that they are asking for modesty and morality from the youths and all members of the society.
On his part, the President of the Christ Universal Youth Fellowship, Christ Ambassador, Ifiok Abasi Udoh relayed that the fellowship is worried at the growing decadence and social ills in the society and are arising to say 'NO' to hate, rape, cultism, abortion, drug abuse and other social ills while saying 'YES' to Love, peace, self development excellence and the word of God, adding that where the word of God dwells, peace and tolerance thrive while eliminating every evil intention.
Christ Ambassador Udoh appreciated the Government of Governor Ben Ayade for its various efforts towards smashing violence and crime in the State and forestalling peace and tranquility adding that no well meaning Government supports negativity and violence.