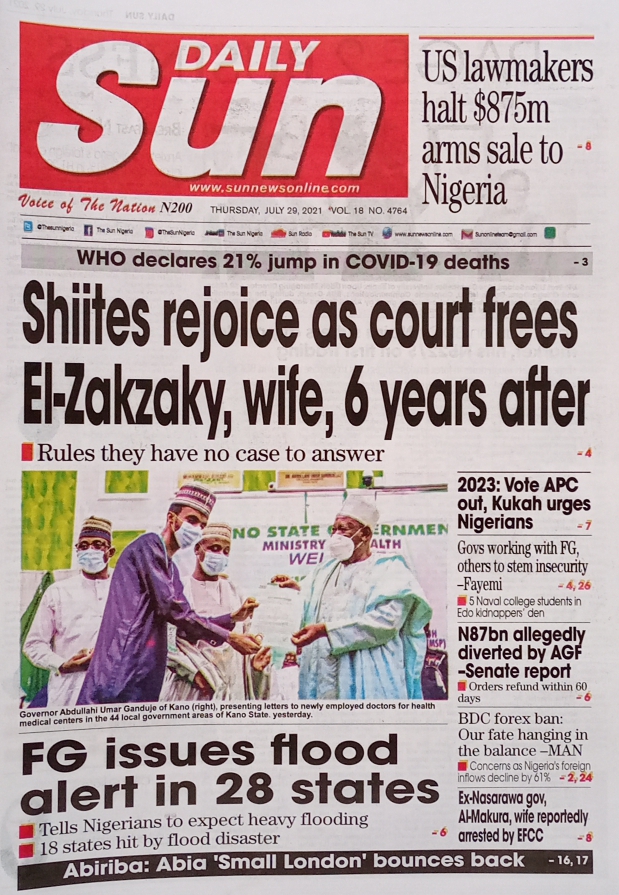 Reading Time:
4
minutes
*Punch
The Punch Newspaper received severe bashing on social media after coming up with this headline: "FG deploys 9,100 corpers in N'West, gunmen kill 344, abduct 430 July."
Reacting, some Nigerians say the headline is misleading, and aimed at mischief with an intent to discredit the NYSC.
Their anger stems from the fact that the headline made it seem as though 344 corpers were killed and 430 abducted, whereas the figures have nothing whatsoever to do with members of the NYSC.
Some of the reactions are captured below:
@adeshegz: "Y'all should chill… I be Yoruba and I'm serving in the above region, it's okay for now and I pray it remains. So all these yeye people (journalists) just wan divide us… The people here have been nice to all corpers as far as I know…"
@cyrilemeka: "This headline is quite misleading. When I saw "Gunmen kill 344″, I thought it was the corpers they were talking about. No naa!! In any case, the issue of insecurity in the north, is a problem only the northerners can solve themselves."
@bright_umunna: "Which kind of blatantly misleading heading be this? Shebi na why Lai wan ban all of una!?"
@oil_shaeikh: "What kind of mischievous and misleading headline is this? Well, what I know is that if this country burns, you're not going to be spared, neither will your family members."
@SogbesanWariz: "@MobilePunch please bring this down. Don't give parents hypertension. This report is not true."
@DanielYohanna: "What kind of misleading headline is this? You make it look like the figures killed and abducted are part of the corpers deployed."
However, part of the report reads: "No fewer than 9,100 corps members have been mobilized to the seven states in the North-West amid rising insecurity in the region which has led to the murder of at least 189 persons and the abduction of 376 persons in Zamfara and Kaduna states alone.
Across the country, however, at least 430 persons were abducted while 344 were killed in the last four weeks, The PUNCH has learnt."
*NYSC
Nigerians have expressed sadness over the death of five graduates in an accident while on their way to the NYSC camp in Katsina.
According to reports, the graduates were said to be from the University of Uyo in Akwa Ibom State.
The incident reignited the debate on the scrapping, and or reform of the NYSC so as to allow members of the corps serve in their localities.
Some of the reactions are seen below:
@drpenking: "One week ago, a young man approached me, said he was directed to me by his friend and needed a Medical Certificate of fitness for NYSC. I directed him on how to go about it. Today I woke up to see his brain scattered on the road on somebody's WhatsApp status.
"Can NYSC be reformed? Can they stop posting people's children very far away from home? Same geopolitical zones would do."
@kaymatt_: "This is heartbreaking! I helped a number of persons secure this same certificate. I can't imagine this happening to any of them. NYSC needs to be reformed, if not scrapped."
@Great_Kamil: "Unpopular opinion:
"To be honest. NYSC is unnecessary. Isn't worth the stress."
@_eDidi: "A prayer for the Uniuyo students who lost their lives on their way to NYSC camp in Katsina:
May their souls rest in peace.
"Saw some videos and I'm trembling right now.
Jesus!!!"
@Sifon_Bassey: "So so sad to hear about the accident involving some NYSC corp members enroute Kastina from Uyo. It has really dampened my morning. These young souls only wanted to serve their country. I'm truly sad."
*Aba
Residents of Aba in Abia State have decried the incessant cult clashes in the commercial city.
This is as they called on the state government to strengthen security due to the ongoing cult clashes which have turned their areas into a war zone.
@fuckerychichi1: "Make these boys find something better to do with their life now."
@king_henry114: "It's getting worse everyday."
@IBN_Officia: "It's sad to see teenagers joining cults and misbehaving, not allowing parents to have rest of mind!!! I think Nigerians are reaping what they sowed."
@HonHenry3: "Thank God they are harming themselves, destroying their states."
*BDCs
Reactions have continued to pour in after the Central Bank of Nigeria banned the sale of Dollar to Bureau de Change operators.
Many have argued that banks would not be able to meet the demand for Dollar by consumers and that this would exacerbate the fall of the Naira against the Dollar.
The apex bank while announcing the ban on Tuesday, said the $5.7billion allocated to BDCs has become unsustainable as $20,000 is allocated to over 5,500 BDCs in the country, amounting to $110 million per week.
Reacting, a social media influencer, @gimbakakanda alleged that, "Many bank executives have stakes in BDCs, and CBN's decision to embark on selling Dollars only to commercial banks prepares them to monopolize the forex market. It's going to be a party as usual for the same bankers selling the PTAs and BTAs intended for private citizens to BDCs."
Another social media user, @Bakry2cool, said "As anticipated, panic buying in the fx market will push up the rates in the interim as it's hard to say exactly what effect the CBN policy will have in the market as of yet.
Rates hovering at about 517-525 in the BDCs as of this morning.
"Truth is, if the CBN policy holds, some BDC operators will be forced to close as some of them are only able to make their margin off the monthly CBN bids.
"There will be aggressive marketing by the stronger BDCs for the market share of the BDCs that fold up as a result of this."
Also, @Fortunate4tun wrote: "Saw people celebrating that CBN has stopped selling Fx to BDCs and I just smile because it's either we don't understand things or we never learn.
"Ask yourself, can the banks sustain the flow of FX to customers who need it?
"Because if they can't, we're about to see $ hit an all-time high price."