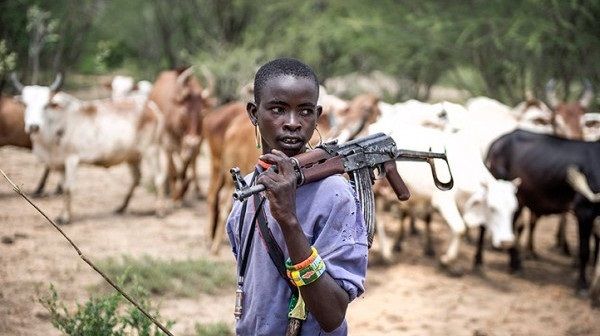 Reading Time:
2
minutes
Herdsmen have struck again along the Benue-Ebonyi boundary, leaving death, grief and gore in their wake. They had, throughout the previous two weeks, similarly left devastation around the Sankera axis of Benue State. 
These attacks are symbolic: they underscore an ominous and symbolic determination on the part of the herdsmen, and the larger interests they represent, not to abandon a strategic edge in the unfolding struggle for the control of the nation's soul. The attacks signal an obvious resistance against the ban by the Governors of the Southern states on the open grazing of cattle, an idea that Southern Nigeria borrowed from Benue State's Governor Ortom. Ortom was the very first Governor to appreciate the subtle but strategic subplot of the open grazing power play.
What is playing out is simply not herdism for cow's sake. Anybody with a tactical bent can sense the enormous strategic peril armed and itinerant herdsmen embody in a changing world: a hardiness acquired over a thousand years of grazing cattle in the wild over vast distances has equipped the herdsman with the uncommon ability to live off the land, and to survive in the wild, undetected, for years. No other group but the Fulani herdsman has acquired this overwhelming strategic edge. If ever there was a vision to overrun a nation and impose a strange doctrine, herdsmen under arms confer that vision an unassailable lethality.
When therefore a ban on open grazing is imposed – and opposed – what those who oppose it might be rueing is the potential loss of a devastating tactical edge, and not necessarily the loss of a means of livelihood by herdsmen, or any violation of a chimeric freedom of movement, which no animal possesses in the first place, being a constitutional right that inheres only in man. There is no other reasonable way of appreciating Garba Shehu's trucculent support for open grazing, or Malami's disfiguring interpretation of the Fundamental Rights provisions of the 1999 Constitution!
It took the Southern Governors quite a while before appreciating this strategic imperative. Incidents such as the latest mass slaughter by Fulani herdsmen in Benue and Ebonyi communities only underscore the grave threats herdsmen under arms pose, and the need to restore essential equivalence by insisting on the strict enforcement of the ban on open grazing.
Kenneth Ikonne is a Senior Advocate of Nigeria